"Keep Yelling Kids! They'll Stop!"
DILLON, SOUTH CAROLINA—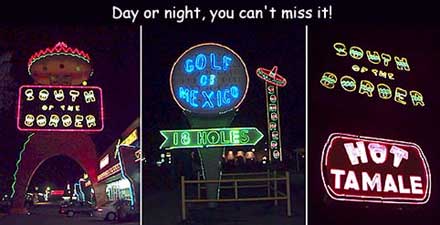 The signs on Interstate 95 start at least a hundred miles away. "Camp weeth Pedro" invites one. "Fireworks Capital of the U.S." announces another. As the South Carolina border approaches, the signs increase in density and size. At the ten-mile marker, a billboard boasting a huge three-dimensional pink hot dog screams "You never SAUSAGE a place! You're aways a WEINER at Pedro's!"
Right before the exit for this tourist mecca, another sign reads "Keep yelling, kids! They'll stop!" I yelled. Mark stopped. And that's how South of the Border became RoadTrip America's first destination in South Carolina.

South of the Border is a stop for countless tourists every year as they make their way south to Florida in the winter and back north in the spring. Interstate 95 is a major truck route, too, and business is so good that South of the Border stays open 24 hours a day, 365 days a year.
Things were pretty quiet the night we were there, but even so, steaks were available in the Sombrero Restaurant, the T-Shirt and fireworks stores were open, and even Golf of Mexico, an 18-hole indoor mini-golf course seemed to be in operation. We just wandered over a few of the 135 acres, marveling at the statuary and the monumental neon signs. Canned music blared from an unidentifiable but powerful source.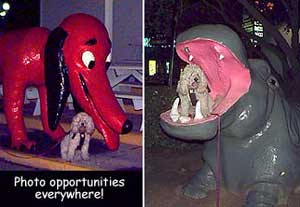 Marvin, having realized that this was a likely place to discover taste treats like half-eaten hot dogs and dropped ice cream cones, kept his nose to the ground. He was so intent on his snack hunt that he ran right into a plaster burro. He looked up, yelped in horror, and jumped back two feet before he realized he'd been had by lawn sculpture. Once he understood that all the animals at South of the Border were mere furniture, he was happy to pose for souvenir portraits.
South of the Border has a 300-room motel complete with honeymoon suites, five restaurants, ten stores, the "Cancun Salun," "El Drug Store," three gas stations, two fireworks stores, and a campground with 100 sites. Situated almost exactly halway between New York and Disney World, it's the ultimate roadside oasis in a spot where kids are guaranteed to yell, and parents are sure to stop.
11/96
South of the Border
Interstate 95 - U.S. 301-501
just south of the North Carolina/South Carolina line
Dillon, South Carolina
Reservations: (800) 845-6011
In South Carolina: (800) 922-6064