Sam Weinberg's Desert Oasis
DESERT HOT SPRINGS, CALIFORNIA—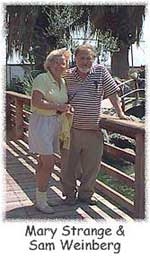 Sam Weinberg opened his enchanted oasis in 1971. Drilling deep into the rock plate upon which Desert Hot Springs, California, rests, he tapped into the area's abundant supply of naturally heated crystal-clear mineral water.
Sam's Family Spa has grown to offer four therapeutic hot pools and a large, naturally heated swimming pool shaded by a lush palm grove. Nearby, peacocks stroll on cool lawns, and a waterfall feeds a pond replete with ducks, geese, koi, and even a pair of black swans.
Offering both motel rooms and RV sites, Sam's Family Spa is the vacation destination of choice for many families. Children are especially welcome, and the nicely appointed playground and wading pool prove it. "Our name says it all," says Sam. "We get whole families in hot water!"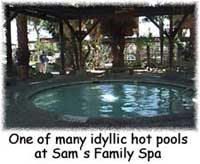 If you're ever in the vicinity of Palm Springs, stop at Sam's for a restorative pause you won't forget. Manager Debbie Matas will probably be at the desk to greet you with a smile.

Sam's Family Spa, 70-875 Dillon Road, Desert Hot Springs, CA 92241
(619) 329-6457