Strolling the Strip
PITTSBURGH, PENNSYLVANIA—

We first saw Pittsburgh at sundown, and our first comment was, "Wow!" which we said simultaneously as the City of Bridges' skyline opened up in front of us. We were eager to return downtown in daylight to explore The Point, the triangle formed by the confluence of the Allegheny, Monongahala and Ohio Rivers.
We didn't know about The Strip, but luckily, we talked to the right locals. "Eat at Primanti's," said one. "Walk along Penn Avenue," said another. "Park on Smallman," said a third. All this fine advice led us into the heart of Pittsburgh's produce and flower market. We had to feed four meters in order to park, but there they were in a row, waiting for us and a handful of quarters. We had an hour to discover the Strip. We knew we'd have to keep moving.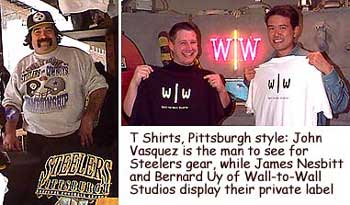 "The day I arrived in Pittsburgh, the Steelers won the Super Bowl," said John Vazquez, whose T-shirt concession occupies a prime corner. "The city was one big party. And they've been world champions four times since then." John doesn't sell anything except Steeler gear. Yellow and black are quite enough to keep him in the green.
We wandered on down Penn, admiring the flower stalls and produce displays that have been a feature of the Strip for more than a century. "Let's go in the Pennsylvania Macaroni Company," said Mark. "Maybe it's a pasta factory." We crossed the street, made our way through rows of barrels and wine presses, and found ourselves in Italian heaven. The cheese display was nearly two stories high, and there were more kinds of olives than we ever knew existed. Each aisle drew us to the next, and we found ourselves standing in front of a deli case filled with at least two dozen different kinds and colors of stuffed pasta.
We left with a pound of genuine Italian tortelloni, but not until we'd discussed everything from bargain hunting in Florence to Pavarotti's personality with Ettore Cercone, who's worked at Sunseri's for ten years. He also introduced us to C. R. Nowe, whose relatives own the company. "And here's Bob Sunseri now," said Ettore. Bob and his brother Sal carry on the tradition begun by their father back in 1902. "Or 1903," said Bob. "We aren't exactly sure."
Our wide-ranging conversation with Ettore meant that our four parking meters would soon expire, so we headed back to the Phoenix. We got there with five minutes to spare. We were about to drive away when a young man paused on the sidewalk and asked, "What's RoadTrip America?"
The answer resulted in our finding out about another dimension of the Strip that's hidden from the casual visitor. Bernard Uy invited us to drive two blocks and visit Wall-to-Wall Studios, the graphic design and marketing firm he owns with his partner James Nesbitt. Wall-to-Wall moved to the Strip in January, 1995. "We started out in my apartment," said Bernard, "And that's where the name 'Wall-to-Wall' came from. We needed more space right from the start." Recently, Bernard and James opened an art gallery dedicated to featuring the work of young Pittsburgh artists, and they're also on the board of PUMP, the Pittsburgh Urban Magnet Project. "We're a group of young business owners who are tired of having our friends move away from Pittsburgh to find jobs and lives," said Bernard. "We want to encourage people to stay."
We wanted to stay longer ourselves, but as always, the road beckons. We'll be back, though. We still haven't eaten at Primanti's.