Virginia City, Nevada

Born in Virginia City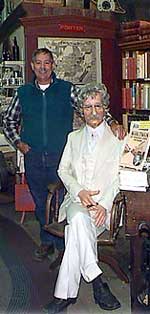 Joe Curtis & Famous Friend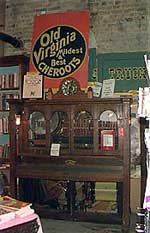 One of two player pianos that still perform on demand at Mark Twain Books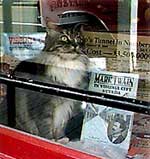 Olivia, a resident cat who is named after Mark Twain's wife, watches the world pass by from the front window.
VIRGINIA CITY, NEVADA—
"Samuel Clemens was born in Missouri, but Mark Twain was born in Virginia City," is the way Joe Curtis likes to put it. "It was here, while he was working for the local newspaper, the Territorial Enterprise, that the famous author first used the pen name by which we know him."

Joe and his wife Eleanor are the proprietors of Mark Twain Books, a treasure trove of Comstock and Nevada history and lore. Within the walls of one of the oldest buildings on Virginia City's C Street, one can look at every book Mark Twain ever wrote, view rare and historical photographs, and listen to some twenty different tunes performed by two of the player pianos in Joe's collection.
An extraordinary historian of the Comstock and the West, Joe is frequently engaged as a consultant by authors writing novels or textbooks about Nevada, the Comstock, or Virginia City. "Quite often customers will stop in and inquire about a distant relative who may have lived here, and usually I can locate their address and pass on some historical anecdotes." In addition to his command of the historical issues, Joe is intimately involved with current day Virginia City. He is Chief of the volunteer fire department and involved in a number of historic preservation projects.
Not only does Mark Twain Books have an excellent selection of new books, maps, Western guide books, and children's books, it has an eclectic selection of cards, post cards, rare books, old books, and photographs. While we were visiting Virginia City, we stopped in at least five times. Each time we discovered something we'd missed before, and we had the feeling that if we went back a dozen more times, we'd still be discovering new surprises. Mark Twain Books is a rare find indeed!