Montezuma's Well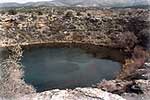 Montezuma's Well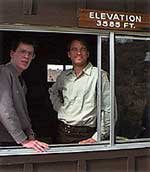 Matthew Arnold & Jason Bliley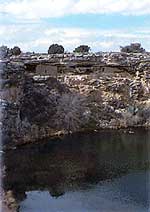 Sinagua cliff dwellings above Montezuma's Well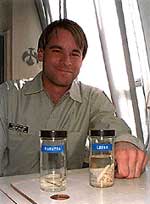 Jason displays leeches & water scorpions
MONTEZUMA'S WELL NATIONAL MONUMENT, ARIZONA—
It seemed as though everyone in the Verde Valley asked us, "Have you seen Montezuma's Well yet?" Before we left the area, we made the trip up the narrow road near Rimrock, Arizona.
The Phoenix took up most of the spaces in the parking area, and we decided to ask the rangers if we'd cause a traffic jam. We walked over to the ranger station, and that's how we met seasonal ranger Matthew Arnold and volunteer ranger Jason Bliley. "Don't worry," they said, and we headed up the hill to the well.
I thought that something called a well would be small and manmade, an archaeological curiosity. I couldn't have been more wrong. Montezuma's Well is a sort of crater lake at the top of a hill, and it's huge. From 900 to 1400 A.D., it supported a community of over 200 Sinagua Indians, and 1.1 million gallons of water a day still flow from it.
Built into the well's rock walls are the cliff dwellings typical of Sinagua civilization, and more stone structures dot the lanscape nearby.
We walked the perimeter and returned to Matthew and Jason with a few hundred questions. They were full of fascinating information about the well, which draws thousands and thousands of visitors every year.
"The first time the park service ever used scuba equipment was here at Montezuma's Well," said Matthew. "They wanted to find out how deep it was. The divers went down about fifty feet, and then they noticed they couldn't see in front of themselves, even a few inches. It turns out that the real bottom was fifteen more feet down, and they were swimming in dark brown mud along with a few million leeches."
"The leeches come to the surface at night," said Jason. "Here's what they look like." He showed us a few healthy specimens in a jar, and also brought out a container of water scorpions. "But they aren't true scorpions," he said. Montezuma's Well is also home to a unique species of arthropod similar to brine shrimp. "That's what keeps all those leeches fed," explained Matthew.
Many mysteries surround Montezuma's Well, its current inhabitants, and the ancient civilzation that once flourished around it. One of the most baffling is the source of all the water. Tests using gas and dye have been performed, but so far, no connection has been established between the well's water and any other water source in the area.
Our visit, all too brief, left us with more questions than answers. One we'll keep asking whenever anyone wants to know what to see in Arizona is, "Have you seen Montezuma's Well yet?"
Montezuma's Well
2 miles east of Rimrock, Arizona,
on Beaver Creek Road