The Million Barrel Museum in Monahans, Texas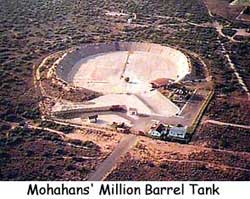 MONAHANS, TEXAS—
Back in 1928, Shell Oil Company needed a place to store crude, a lot of it. Since the price was climbing, it seemed worthwhile to build a container big enough to match potential profits. The result was the Million Barrel Tank pictured at left, and it had a solid roof made of California redwood. It was filled to the brim once, and it might have stayed in use longer if the stock market crash of 1929 hadn't driven oil prices to record lows.
The tank stood empty for decades, until entrepreneurs in the fifties decided to turn it into a water park. They added a boat ramp and briefly attracted boaters and fishermen. Following is a reminiscence we received in January, 2006, from Wallace Dickey, Jr., nephew of the entrepreneurial couple who owned the tank for many years:
"My uncle and aunt Wayne & Amalie Long were the entrepreneurs that bought the Million Barrel Oil Tank and tried to turn it into a swimming and fishing hole in the 1950s. I personally was there in the summer of 1958 when I was in high school when they tried to turn it into a stock car racetrack after it would not hold water long enough for fishing and swimming. It was my aunt, after my uncle's passing in 1980, that turned it into a museum and donated it to the state for a state park that makes it what it is today."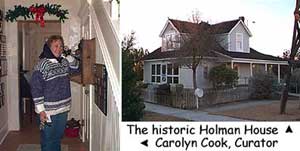 Nowadays, the tank is the centerpiece of Monahans' museum, which also includes the town's first jail, railroad memorabilia, and the Holman House, a beautifully restored turn-of-the-century boarding house that belonged to one of the town's leading families. The tank makes a great amphitheatre, and events are held several times a year. One of the most popular is the Fajita Cook-off held every year in May. Over 5,000 people gather from as far away as California to enjoy a weekend of southwestern food and Tejana music.
UPDATE 05/29/07: Kathy Patterson, President of the Million Barrel Museum, writes:
When they filled it up the first time, all the oil leaked out, and then months later they tried again and the oil leaked out again. That is the reason for the closing of the tank. The same thing happened when the Longs filled it up with water.

Our current curator is Lee Nichols and has been with the MBM since 2001. He is very knowlegable about the barrel and the railroad.

Million Barrel Museum
East end of Monahans on Highway 80 (off Interstate 20)
Monahans, Texas

More information & hours of operation
Megan
11/96