A Separate Reality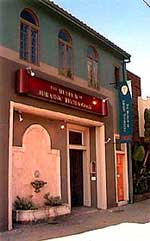 Museum of Jurassic Technology
CULVER CITY, CALIFORNIA—
Mark and I went to the Museum of Jurassic Technology the other day. We had no idea what to expect, partly because "Jurassic" and "Technology" appear to have no meaning when juxtaposed, and partly because Tison Lacey, who suggested we visit, told us nothing more than the address. "Don't even look at the museum's Web site before you go," she said, and we didn't.
The Museum of Jurassic Technology lurks behind an unassuming windowless store front on Venice Boulevard in Culver City. The door is locked, even when the Museum is open. To get inside, you have to ring a doorbell.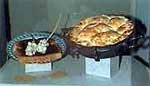 Mice on toast, mouse pie: Cures for anything from whooping cough to stammering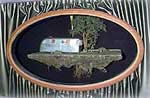 "Garden of Eden on Wheels," an exhibition that "illuminates the history of those who have heeded the call to mobility"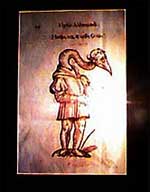 "Goose-necked Man," the progeny of bird and human, from Ulisse Aldrovandi's
Monstrorum Historia
, Bologna, 1658
Gallery of manuscripts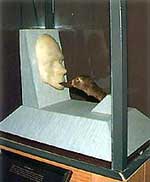 Inhaling a duck's cold breath cures children "afflicted with thrush and other fungeous mouth or throat disorders"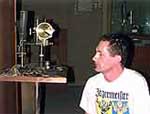 Doug Harvey, Keeper of the Permanent Collection, with an artifact from the Mount Wilson Observatory
I rang, and almost immediately, the door opened. A young woman admitted us to an anteroom that seemed pitch-black after the bright sunlight outside. By the time my eyes adjusted to the dimness, we had paid four dollars apiece and signed a guest book. We proceeded into the Museum proper.
We watched an introductory slide show, and we listened to its accompanying narration. We looked at the skeleton of a European mole, carefully displayed on black velvet. We peered into a diorama illustrating the unlikely life cycle of the Cameroonian stink ant and another depicting research on a rain forest bat that can fly through walls. We stared at a wall displaying moose antlers, deer antlers, and a horn that once grew from the head of a woman named Mary Davis.
Curiouser and curiouser, I thought as I continued my migration through the tenebrous labyrinth. The museum was larger inside than out, and the more I listened and read and strained my eyes to see, the less I understood. Mark and I wandered through halls dedicated to an opera singer named Madelena Delani and a neurophysiologist named Geoffrey Sonnabend. We listened to every word of Madelena's life story and Geoffrey's theories about the illusion of memory, and still no light dawned.
Baffled, we wandered on, peering in one gallery at pages of arcane manuscripts, and in another at three-dimensional models of superstitious customs. The room reserved for temporary exhibits was filled with dioramas of travel trailers, and another cubicle housed sculptures so unbelievably small that microscopes were positioned to allow visitors to see them. The howl of an American grey fox echoed in another chamber, and the gurgle of water recycling through a model of South America's Iguazu Falls followed us everywhere.
We wandered and listened and peered, and I kept wondering. What is this place? What's true? What's false? My mind, caught off guard by images from a world I never knew existed, struggled to label and evaluate and categorize and... finally, I gave up. I suspended judgment. I let go and slid down the rabbit hole. Like Alice, I found myself in an unexpected wonderland.
"In its original sense," reads a Museum brochure, "The term museum meant a spot dedicated to the muses — a place where man's mind could attain a mood of aloofness above everyday affairs." The Museum of Jurassic Technology is such a place, a separate reality that imbues its visitors with the means to look at mundane ordinariness with a new sense of wonder.
The Museum of
Jurassic Technology
9341 Venice Boulevard
Culver City, California 90232-2621
(310) 836-6131

The Museum is online at www.mjt.org