Striking Memories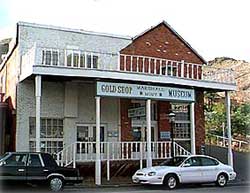 The Marshall Mint & Museum in Virginia City
VIRGINIA CITY, NEVADA—
Virginia City is known as "the richest place on earth,"and never has a town better deserved such a superlative. It's perched on top of the Comstock Lode, one of the largest deposits of gold and silver ever found. Even though the bonanza days ended over a hundred years ago, and most of the mines are closed, you can catch a glimpse of the glory days inside the Marshall Mint & Museum.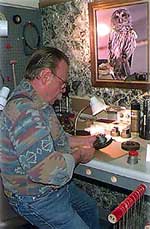 Marshall Mint Press Manager Doug Walling prepares to mount a steel die in the coin press

Clockwise from upper left, a silver planchet (blank), a die, and a finished one-ounce silver coin
The home of Hugh Roy Marshall's stunning collection of gems and minerals, it's a place where you can be sure that if it glitters, it's the real thing. One of the cabinets holds several naturally occurring gold nuggets, including one that weighs more than five pounds.
And the museum is only half of the story inside the historic building on "C" Street. A room at the back is equipped with a glass window through which visitors can watch Doug Walling, the Marshall Mint's Press Manager, strike gold and silver coins on a 300-pound hydraulic coin press.
Minting coins is an art requiring skill and precision. Dies, the molds from which coins are struck, are cast in steel from original artwork. When the dies are properly aligned top and bottom, the blank silver planchet is placed in the middle and Doug activates the press. The surface of the die under pressure causes the molecular structure of the blank to shift enough to exactly match the contour of the dies. The day we visited, Doug minted a silver coin just for us, a one-ounce "Angel of the Day" medallion. The Marshall Mint also produces one ounce gold and silver commemorative ingots and a variety of commemorative coins.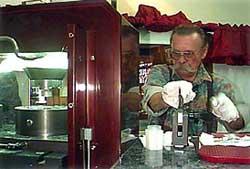 A silver coin is minted right before our eyes

Visit the Marshall Mint online:
www.marshallcorp.com

For more about Virginia City,
click here!