Rocky Mountain Heat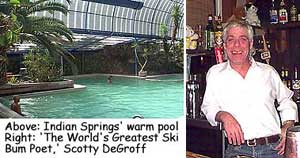 IDAHO SPRINGS, COLORADO—
Indian Springs Resort has been around since 1869, just ten years after prospector George Jackson came upon a hotcreek in the heart of the Rockies. He found a gold nugget, too, and started a rush to "Jackson's Diggins," now known as Idaho Springs.
The buildings you see today at Indian Springs were originally built in 1905. They've been remodeled and enlarged numerous times over the years, and currently offer 80 rooms, a restaurant and a lounge. Even though many of the rooms are new, Indian Springs still has the ambience of a Gilded Age resort. Jesse James stayed here, and so did Sarah Bernhardt, the Vanderbilts and the Roosevelts. Their ghosts still seem to lurk in the old wooden hallways.
Downstairs in the main lodge are the geothermal grottos, the secret of Indian Springs' popularity with hikers, skiers and locals. The caves were carved into the bedrock over a century ago and have several sunken tubs filled with 104-degree (Fahrenheit) mineral water. There are also private baths, outdoor private hot tubs, a room where you can cover yourself with mud, and a huge warm swimming pool under a translucent greenhouse filled with banana trees and other plants you don't expect to find in Colorado.
In the lodge, we met the "World's Greatest Ski Bum Poet," who happens to be the bartender. Scotty DeGroff has been skiing all his life and writing poems about it for eighteen years. "The first edition of my book of thirty poems has sold out," he told us, "And the second edition is about to come out." Scotty recited several of his works for us, and made us feel, for a moment, that we were out "Skiin' Loveland Summit with a full moon to our backs..."
Early in the morning, we made a pilgimage to the steamy sunterranean grotto. "No assurances or vain promises are ever held out as to the cure of any person coming to take the Idaho Springs treatment," reads a brochure dating from 1918. "However, records indicate that 95% of the patients received are permanently benefitted..." We're happy to report that after our vist, we joined the majority and headed toward Denver wrinkled and refreshed.
Indian Springs Resort
302 Soda Creek Road
Idaho Springs, CO 80542
(303) 567-2191
www.indianspringsresort.com
Powder and Other Skiing Poems, by R. Scott DeGroff is available for $10, including postage. Write to:
Scott DeGroff
Box 354
Georgetown, CO 80444