Grapevine Canyon, California

Carved in Stone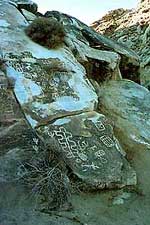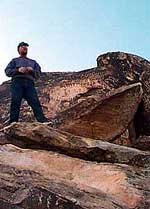 Robert Spurlock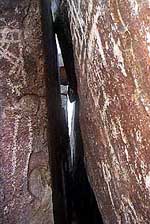 GRAPEVINE CANYON, NEVADA—

It seemed especially appropriate to follow a dirt road over Christmas Tree Pass in late December. Christmas Tree Pass is located a few miles northwest of Laughlin, Nevada, a town on the west bank of the Colorado River. A dirt road skirts the edge of Spirit Mountain in the southwestern edge of the Lake Mead Recreational Area. The land surrounding Spirit Mountain is sacred to the Yuman Indian tribes including the people of the Mohave, Hualapai, Yavapai, Havasupai, Quechan, Pai pai and Maricopa communities. The grandeur and magnificence of the imposing granite cliffs are apparent to any visitor. It is easy to spot animal and human likenesses in the jumble ofrocks and boulders that abound in the area.

Our guide for the day was Robert Spurlock, a local rock art enthusiast and a native of Las Vegas who shared some of his favorite desert haunts with us. Grapevine Canyon is a desert oasis that supports a seasonal riparian environment complete with reeds and cottonwood trees. It is also home to some remarkable petroglpyphs carved and scratched on the native rock at the entrance to the canyon. Some of the most interesting examples are on rock faces hidden from casual view - it is necessary to crawl deep into fissures and squeeze into narrow gaps to view these early examples of rock art. The original artists appear to have observed sunlight and moon-ray patterns, especially during summer and winter solstices. They carved their symbols to coordinate human-made images with naturally-occurring beams of light and shadow. For more information look at the National Park Service website about this area of Lake Mead.

This area of the United States has hundreds of locations of petroglphys and geoglyphs, and we hope to visit many of these sites over then next few months. Geoglyphs, also known as intaglios, are huge figures found on desert floors. According to Boma Johnson, a retired archeologist with the Bureau of Land Management, these earth figures are usually made by scraping back the darker surface gravel to reveal lighter subsoils. Boma has spent over twenty-five years working and exploring the lower Colorado River area and some of his amazing discoveries are online here.

Traveling north towards Las Vegas, we also visited the site of the first gold strike in Nevada near the historic town of Nelson. The area was named Eldorado in 1775 by the Spanish explorers who made the initial discoveries of gold. Most of the commercial mining of the area began in the late 1850's. We visited the ruins of the "Techatticup" mine, which was one of the most lucrative of the area. The Eldorado Mining district produced in excess of $5,000,000 in ore by 1907. For more information, read this local newspaper column written by Margo Bartlett Pesek.