Fox Farm
SAGLE, IDAHO—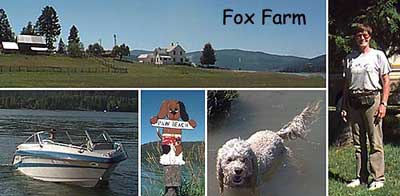 Time slips by softly at Fox Farm, an idyllic retreat on the banks of the Priest River near Sagle, Idaho. Sandy Schulz and Jo Ann Ball purchased the Fox family homestead in 1988. By the next spring, a new bathhouse, laundry and fourteen campsites were ready to welcome summer visitors.
The pine-shaded camping area would be lovely enough, but just a few feet away, Priest River offers swimming, boating and water sports. We bask on the sandy beach and cool off in the river whenever we get too hot. Sandy, pictured above, treated us to a trip to nearby Sandpoint in her new Mariah speed boat, giving us a view of the area different from the land routes we're used to. Marvin spends as much time as possible at "Paw Beach," the swimming area reserved for the exclusive use of canine guests.
Before moving to North Idaho, Sandy spent 25 years as a flight hostess for Western Airlines and was later a full-time Registered Nurse. Jo Ann completed a career in education as principal of a high school in Placentia, California. In addition to creating the resort, they have also restored the 1909 Fox family farmhouse and barns. While Fox Farm is no longer a working farm, its permanent residents include two horses named Buggs and Jill and a beagle named Long Acres' Silver Bullet -- "Coors" for short. Two friendly cats are usually on hand to greet guests on their way to the beach.
If you're looking for a summer escape, just follow Interstate 95 south from Sandpoint and turn right on Dufort Road. It's not paved with yellow brick, but it will take you to Oz just the same.
Sandy Schulz & Jo Ann Ball
Fox Farm RV Resort
3160 Dufort Road
Sagle, Idaho 83860
(208) 263-8896