Football's Taj Mahal
Texas Stadium, the former home of the National Football League's Dallas Cowboys, was imploded (watch a video) in 2010 . The team's new home is Cowboys Stadium in Arlington. As you can see from the article below, the old stadium was a victim of its own popularity - too small already by 1996, when the story was written. Cowboys Stadium, which opened May 27, 2009, has a capacity of about 100,000.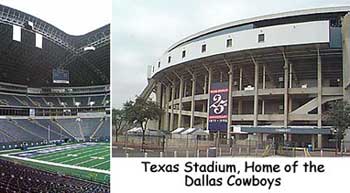 Q: Why does Texas Stadium have a hole in the roof?
A: So God can watch His team play.
One look inside Texas Stadium is enough to make anyone believe the Cowboys may indeed enjoy divine favor. They play in one of the most beautiful arenas anywhere, and Cowboys games are so popular that plans are afoot to enlarge it. "It holds nearly 66,000 people, but it's not big enough for a Super Bowl any more," explained our guide Sheryl Kindrick. She also filled us in on other facts about the structure, which was completed in 1971 at a cost of US$35 million. That number sounded large until we learned that Deion Sanders earned that much last year to play for one season.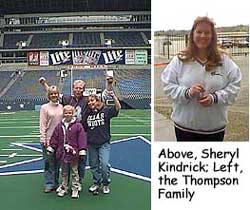 As we followed Sheryl onto the field, we met Bob, Mary, Vicki and Katie Thompson of Granby, Massachusetts. "This is our first time in Dallas," said Bob, who's been a Cowboys fan since 1960. "We came here for a game last Monday, and if we ever get our voices back, ", it'll be fabulous. Monday's game was the loudest one ever!"
Texas Stadium is celebrating its 25th birthday in 1996, and the Cowboys have been World Champions for three of the last four years. Maybe they really do have God on their side.
11/96
Watch the implosion of Texas Stadium on April 11, 2010: