George Jetson's Arizona Retreat?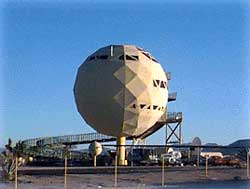 No creatures, human or otherwise, were around when we passed by this remarkable edifice on Interstate 40 west of Flagstaff, Arizona in February, 1997. We're still wondering, but see below for likely explanations.
1/28/2002
Enlightening Information!
Research by Spacer Conrad of Little Rock, Arkansas:
According to the Home and Garden TV channel web site, the mysterious Golf Ball House is currently the residence of Ardell and Hank Schimmer, who spent seven years creating a home from the abandoned structure, which was once a nightclub. The lower levels feature a large kitchen and a family room. The upper floor is the main bedroom and has magnificent views of the surrounding countryside.
5/25/2000
The Mystery Just Could Be Solved!
Virginia Bowen writes:
"While enjoying your site this evening, I saw this photo. It turns out that I've actually been told about it! It was built as a novelty restaurant many years ago-- I think it was meant to be a "space age" type idea. After sitting empty for many, many years, it is now a private residence-- bought by an employee of Ford Motor Company. Ford has a proving grounds nearby which I've had the privilege of visiting, and that is the story told me by another employee there. He claims the woman who owns it works there with him. Could be just a good story, but thought I'd pass it along."
Thanks, Virginia!