Appomattox Court House National Historical Park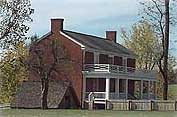 The McLean House, where Lee actually surrendered

Appomattox Court House lies just east of Lynchburg, Virginia, on Highway 460. Thanks to the fact that it was all but deserted after the Civil War, it looks a lot like it must have when Robert E. Lee surrendered the Army of Northern Virginia to Ulysses S. Grant on April 9, 1865.

The Courthouse, where most people
think
Lee surrendered
Many people think that the meeting between the two generals took place in the courthouse, which is now the park's Visitor Center, but the historic rendezvous really happened in the parlor of the McLean house nearby. The reason for the confusion is that the town's name was Appomattox Court House. "If you spell courthouse as two words, it means the town," explained Supervisory Park Ranger Ron Wilson. "Many county seats in this area had Court House as part of their names, and some still do, like Amelia Court House. But if you spell courthouse as one word, then you're talking about the building."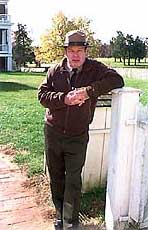 Ron Wilson, Supervisory Park Ranger
Ranger Wilson went on to explain how the agreement between Grant and Lee set the stage for the Civil War to end. "There was very little fighting after Lee's surrender," he said, "Even though other armies were still in the field."
No photographers were on hand to capture the historic meeting. "They were elsewhere, taking pictures of battlefields," explained Ranger Wilson. "The only observer at the event was a rag doll that happened to be in the parlor. The soldiers nicknamed her "The Silent Witness," and she's on display in the Visitor Center."
Many historic artifacts from the area (click here to guess the identity of a mysterious one) are also on display, and a large map animated with lights traces the movements of Grant and Lee and their armies in the days leading up to the surrender.
| | |
| --- | --- |
| Lee's seat in the McLean House Parlor | Grant's chair across the room |
For more information about the park, visit www.nps.gov/apco/index.htm