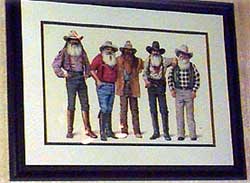 "The Beards of Virginia City," watercolor by John Hunt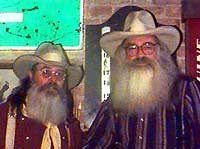 Artist John Hunt, right, with Fly, owner of Virginia City's Silver Dollar Pub
VIRGINIA CITY, NEVADA-

On Nevada Day, October 31, 1998, Virginia City once again defended its title as the "most bearded" city in Nevada. Award-winning local artist John Hunt captures the glory of Comstock facial foliage in watercolors.
"Phil Monster & Puppy

Puppy is quite sensible,

though he does drink a bit."

"Fly: Our Friend & Local Bar Owner

He is not actually an insect,

though sometimes he acts like one."
The artist may be reached by mail:
John Hunt
P.O. Box 399
Virginia City, Nevada 89440
10/98