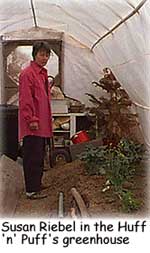 We all know how things turned out for that first little pig, but he really didn't have such a bad idea. There's nothing flimsy about a house made of straw, as long as the straw is tightly baled, free of pesticides, dry, and used in accordance with good engineering principles.
Don't believe it? Meet Susan Riebel of Rimrock, Arizona. She opened the Huff 'n' Puff Straw Bale Inn in August, 1996. The house boasts post-and-beam construction and a solar-powered electrical system. Hot water pipes run under the concrete slab floor, offering radiant heating in the winter. "And my utility bill runs about US$18 a month," said Susan. "It's one of this house's many great features."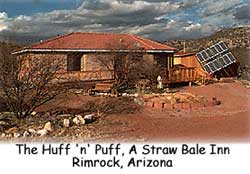 Susan made us tea in the near-circular 'great room.' "I wanted this room to look like a yurt," she said. The ceiling rises to a point in the middle, and large sliding glass doors offer a beautiful view of the desert landscape outside. A bevy of quail lingered in the sage brush. "And a road runner stopped by yesterday," said Susan.
The next day, we visited Tim and Wenty Kelleher at their home near Camp Verde. For the last two years, they've been living in a trailer on their property as their straw bale masterpiece takes shape. "We'll move in within three months," said Wenty when we arrived. "I can't wait."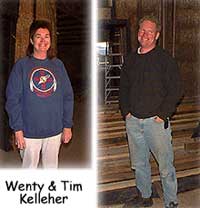 She invited us inside the perfectly circular strcture, where Tim was working on the interior walls with the help of two other men. "We've built the whole house as funds become available," said Wenty. We have no construction loan. We estimate that the whole project will end up costing about US$50,000. It has 2800 square feet, three bedrooms, two baths and no mortgage."

The house is also a community project. "When we put up the walls," said Wenty, "It was like an old-fashioned barn-raising. There were about sixty people here, and we had a big party when we were done. People have continued to help us, too. So many of the great features have been suggested or designed for us as we went along. It's amazing."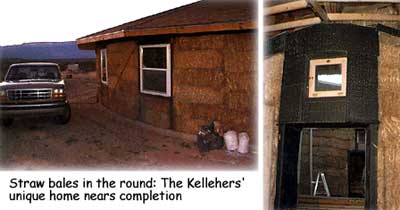 According to owners, straw bale walls offer an insulation factor of R65, and they're more fire resistant than ordinary frame construction. The thick walls mean that windows are deep and create interior shelves and wonderful window seats. In addition, the bales can be cut and shaped in ways no other building material will allow. As long as the bands binding the straw togther are replaced, it's possible to create arches, curved corners, and any number of other fanciful shapes.

Depending on the finishing technique, a straw bale structure can look like a Spanish adobe or an English Tudor. Versatility is built into the medium, and the thick walls may well be the only giveaway when a project is complete. "But we'll have a little door you can open to see the straw," said Wenty. "It's a tradition among straw-bale home owners."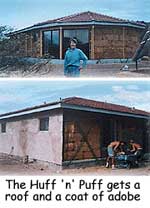 If you're wondering what really keeps a wolf from blowing a straw bale house down, it's steel re-bar. It's hammered down vertically through the bales to connect them together. "Water is the real enemy of straw, not wind" explained Tim. The bales must be kept dry until they're sheathed. "When you put your walls up, you have to get the roof on immediately."
Building a straw-bale house doesn't have to be a do-it-yourself proposition. Susan Riebel hired a consultant from Tuscon to oversee the building of the Huff 'n' Puff. The Inn cost about US$98,000 to complete. Oh, and in case you're wondering, both of these houses meet building codes, and have all their permits in order.
"Straw bale houses are built to last," said Wenty. "This one's going to be here, a long, long time." It's too bad the first little pig didn't get some pointers from these Arizona innovators.

Visiting Arizona? Why not stay in a straw bale B & B?

The Huff 'n' Puff
P.O. Box 406
Rimrock, AZ
(520) 567-9066