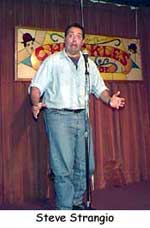 It all began with a story about RoadTrip America that appeared in Long Island Newsday. Steve Strangio of Oceanside read it and sent a message asking if we'd be in the area. E-mail flew back and forth, and we discovered that, in addition to being a stand-up comedian, Steve invents board games, writes for Cracked magazine, and works on the TV show, USA Live. Check out his Web site!
Just as we were figuring out how we might arrange to cross paths with this comic factotum, we also received a message from Chuck Ijadi, who also lives on Long Island and just happens to be married to Megan's best friend from high school, Sara Burgess.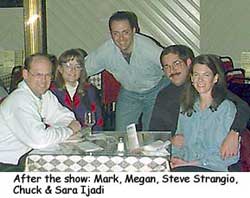 We all materialized in space and time at Chuckles, a comedy club in Mineola where Steve was performing. "Expect anything," Steve advised us. "This is 'open mike' night." The show turned out to be an nine-comic line-up of local talent, and there wasn't a bomb in the bunch. Steve, who describes himself as looking like "a cross between Sylvester Stallone and Billy Joel, (The horror! The horror!)" topped them all with a routine about learning how to survive in a health club when you aren't naturally endowed with giant pecs and meaty thighs.
We also got the chance to play one of Steve's board games, Roundabout. It's a great strategy game for two to four players, and we're hoping it's available commercially soon.
A rendezvous conceived in cyberspace brought us an evening of good friends and good humor. It was the electronic age at its best.