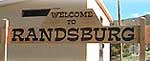 RANDSBURG, CALIFORNIA—
We pulled into Randsburg, California, around three in the afternoon. Bruce Jones, our accomplice for the day, had made the mistake of asking, when we were a mere fifty miles away, "Have you ever been to Randsburg? It's a ghost town sort of place near Ridgecrest, or at least it was thirty years ago when I last visited."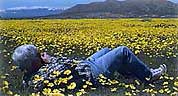 Bruce Jones taking pictures of wild flowers before making his fateful comment about Randsburg
We'd been on a wild flower hunt up until then, but a ghost town was too much to resist. We headed north, and now, here we were, on the main street of a town time had put on a back burner. Gold mining operations dotted the hillsides, and turn-of-the-century wooden buildings with false fronts and tin roofs lined the street. We parked near a bar called "The Joint."
I had just pointed my camera at a picturesque vine-covered outhouse when a woman walked up. "That's one of the more amazing motor homes I've seen," she said. "I drive that van over there." She pointed to a Ford Econoline with two propane tanks on the back. "I've been living in it for four years. I just spent four months in Saline Valley."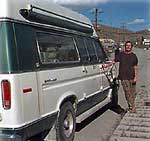 Margi Wainio with her home on wheels
Margi gave us a tour of her abode on wheels, a remarkable vehicle she'd outfitted herself. "I really planned this as a camping van," she said. "I didn't really intend to live in it, but that's how it's turned out." Margi is originally from Santa Fe, where, when fate led her in an unexpected direction, she traded a large house and a full complement of belongings for a life on the road. She's writing a book about her experiences on her laptop computer.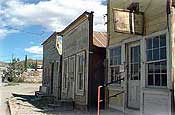 Tim Powers' historic digs on Randsburg's main street
Margi introduced us to Tim, who bought three turn-of-the-century buildings in Randsburg recently, including the old barber shop. "It still has the barber chair in it," he said.
"You've got to see Tim's bus," said Margi, and after we'd given them both a tour of the Phoenix, we headed across the street.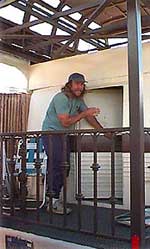 Tim Powers on the back porch of his Magic Bus
Tim led us to the back of the building. "This is the Magic Bus," he said. "I'm adding a second story." Welded artistically to the top of a white Superior school bus was the top half of a vintage Volkswagen microbus. "It's going to be my bedroom," said Tim. "It will slide down for travel, and then extend to full-size when I park— three stories high."
Tim has called the Magic Bus home for over a decade. "I moved in when my house in Shasta City burned down," he said. Inside, he has a complete kitchen with a tile counter, a Franklin stove, and a bathroom with a full-sized tub.
"It's a palace," we said.
"Oh, and I have a thirty-foot flag pole on the roof," added Tim. "When I'm out in the desert where there aren't any power lines, I drive with my flag raised." He also used to have a basketball hoop on the back, "But I had to take it off to add my second story," he said.
Tim is a welder by trade, a skill that finds no end of application in the Magic Bus. In preparation for adding his upstairs bedroom, he lengthened the bus by about three feet. "I found an abandoned bus of the same type out in the desert," he said. "I cut off the end and welded it onto this bus. It matched perfectly."
And so it came to pass that we found no ghosts in Randsburg, just two originals who've chosen to follow the wind. Like the wild flowers, they may not be there next time. Like a desert sunset, they were a fleeting delight.