ARCATA, CALIFORNIA—

A marvelous array of locally collected fungi greet Mushroom Fair attendees
Humboldt Bay Mycological Society holds a Mushroom Fair every year, and we were lucky enough to be in Arcata for this year's event on December 8. In spite of heavy rain, over 450 mushroom lovers turned out to enjoy displays and learn how to dye wool and cook with mushrooms as well as how to identify and preserve them.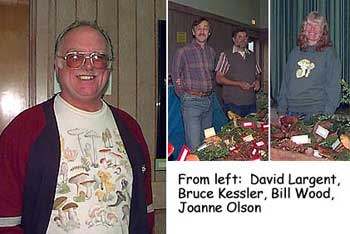 David Largent, professor of botany at Humboldt State University, is one of the founders of the Humboldt Bay Mycological Society. Other active members on hand to answer questions were Drs. Bruce Kessler, Bill Wood, and Joanne Olson. They are often called upon by emergency rooms to identify mushrooms suspected of being poisonous.
Mushroom identification can be very tricky, and edible varieties look exactly the same as lethal ones to the untrained eye. We came away with new appreciation for the skill and attention it takes to classify fungi.