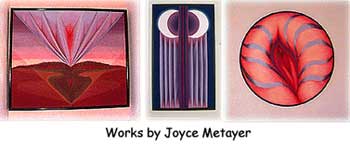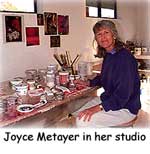 Diane Hall, our friend in Rimrock, Arizona, told us about Joyce Metayer's art. "But I really can't describe it," she said finally. "You have to see it."
So off we went, to an airy house on a hillside overlooking Lake Montezuma, where Joyce and her husband Don Lanoue greeted us.
As soon as we caught sight of the work hanging on the living room wall, we understood why Diane couldn't do it justice in words.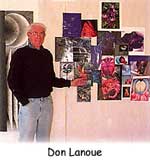 Joyce's works are a unique combination of painting and sculpture. "Because the subjects of my wall reliefs are universal symbols, I call them 'Sculptural Archetypes,'" she says.
Don took the circular sculpture, a piece entitled "Triple Goddess- The Crone Aspect," off the wall so we could see how it was made. Stretched on a circular wood frame, the piece is assembled from intricately designed and precisely cut pieces of canvas sewn together in intricate patterns. Each one is painted with as many as twenty layers of acrylic pigment. The result has depth and complexity far exceeding a two-dimensional painting.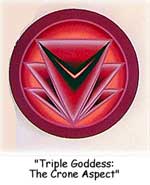 Joyce showed us several more works, and then we climbed the stairs to her studio. Here, each carefully planned sculpture takes shape, first as a pencil sketch on paper, and finally as a finished piece. Depending on size and complexity, the process can take anywhere from two weeks to two months.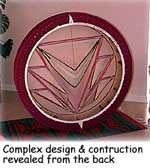 Joyce's structural designs require a knowledge of mathematics and engineering. "Right now I'm looking for a computer program that will help me create even more complex works," she said.
Joyce, who earned a master's degree from the Rhode Island School of Design, has been an artist for 20 years. Her works are currently on display at the Waxlander Khadoure Gallery in Santa Fe, New Mexico.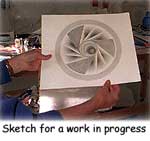 "My art is about bringing archetypal concepts into form," says Joyce. "They have an ageless quality about them since they honor the past, explore significant symbolism in the present, and suggest the future."
Joyce's art is also beautiful, evocative and moving, and Diane was right. You have to see it.