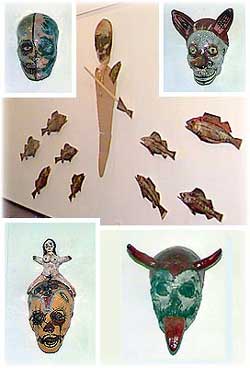 RENO, NEVADA-
The "Day of the Dude" has arrived at the University of Nevada, Reno, just as it has for the last fourteen years. What, exactly, is the Day of the Dude? Edw Martinez, Chairman of UNR's Art Department, would probably be glad you asked. He'd tell you it's an exhibit celebrating the Mexican observation of Dia de los Muertos, or Day of the Dead. Since that festival roughly coincides with Halloween, the show celebrates the American holiday, too.
Surrounding Edw Martinez' "Day of the Dude" mural are ceramic skulls by Michael Sarich, who also teaches at UNR.
While Edw Martinez enjoys an international reputation as a print maker, he is best known around his own community for his famous Valentines. What started as something small back in 1973 has grown to the point that Edw now sends as many as 700 every year, each a work of art.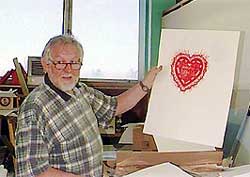 10/98