RTA Custom Maps
Create, Save, and Share Custom RoadTrip Maps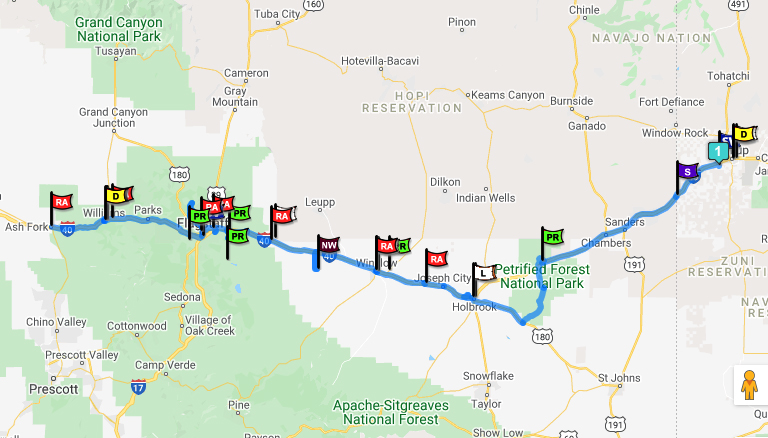 No Registration Required: RTA's Map Wizard lets you make instant road trip maps. Simply enter your beginning and ending points, then click to find RoadTrip Attractions along your route.
Go to the Map Wizard

A free library of Custom RTA Maps is available for download.
For a full range of mapping tools, check out RTA's RoadTrip Map Center. (Note: Free registration is required.)
Go to the Map Center

COMPANY

PRODUCT

National Geographic

The National Geographic atlas maps have been the gold standard for road maps in North America for many years. Like earlier maps, this new edition is spiral bound and printed on durable, high-quality paper. The state maps are chock full of useful, easy-to-see-at-a-glance information for locating places in adjoining states. For road trip planning purposes, the National Parks locator and the suggested drives section is excellent. In addition to the 50 U.S. states, there are up-to-date maps for Canada, Mexico and Puerto Rico. What sets this map apart from similar maps are the detailed maps for twenty-four of the most visited US National Parks. For the 2021 edition, the Index was reorganized by city place name, making it easier to find maps for specific cities. We give this map an "A" rating.

Since the dawn of RoadTrip America, we have carried a version of this atlas. We no longer drive a high-profile vehicle, but we still find the easily identifiable truck routes to be an integral part of our trip planning process. Like the National Geographic Road Atlas, this is map is spiral bound and features high-quality paper which has been laminated making it a good choice for road trippers, especially those who have been known to spill coffee when viewing maps. The 2022 version has yet to be released and it is easily the most expensive atlas (tipping the scales at $80.00) but we tend to purchase a new version of this atlas every 2-3 years. Although smart phones have reduced the need for road construction hotlines, we still find this a valuable map to have in our road trip vehicles. This is a map that you can easily view and throw in the backseat without fear of damage.

Rand McNally

This content in this map is very similar to the Deluxe Motor Carrier Atlas without the laminated pages and the spiral binding and it is 1/5th of the cost of the trucker's version. Rand McNally is actively engaged in keeping this map updated and we have found that they update maps readily when consumers post comments at randmcnally.com/tellrand. It is a Perennial favorite, updated and rendered even more attractive by a new low price. You really can't beat it for value.
COMPANY

PRODUCT

Benchmark Maps

Road & Recreation Atlases

In the RoadTrip America offices, we keep a copy of all of the "Road and Recreation Atlases" this company has ever produced. Most are dogeared and the pages are torn from heavy use. The Benchmark series uses landscape illustration to show mountains passes, marshes, canyons, and other geographical elements clearly. The maps look like aerial maps with elevations shown in relief, and it is easy to see at a glance if the roadway you are considering climbs up a steep pass or slogs through a swamp. 2020 was their 25th anniversary of producing maps that every serious roadtripper who travels in the western US states has come to love and appreciate. Benchmark is based in Santa Barbara, California and produces atlases, folded maps, digital maps through a couple of apps and even some custom maps. We personally have provided updates over the years to some of these maps and highly recommend these maps to anyone planning road trips in the western US states. What we have really enjoyed over the years is the variety of landscape imagery that are featured on the covers of their atlases. Here are some of our favorites: Alaska, Arizona, Baja California, California, Colorado, Idaho, Nevada, New Mexico, Oregon, Southern Appalachians, Texas, Utah, Washington, and Wyoming.

Atlas & Travel Encyclopedias

With over a hundred detailed black-and-white maps and hundreds of photographs & extensive coverage of historical events & recreational opportunities in Idaho, Wyoming, Yellowstone National Park, and Montana, these two volumes live up to their "Ultimate" name. Excellent resources for Yellowstone & Glacier National Parks. Read RTA's review.

DeLorme

DeLorme's series of state gazetteers are a good place to turn for more detail than ordinary road maps. A blend of road atlas and topo map, the gazetteers can help you keep from getting lost when you're way off the beaten path, and they're conveniently published in book form for easy reading while driving. Something to remember when purchasing DeLorme Gazetteers is that they adhere strictly to state lines. This means that if you're exploring Death Valley, for example, you have to keep juggling between the Nevada and Southern California books. For this reason, we always carry a standard road atlas and use it in conjunction with the DeLorme Gazetteers.
National Geographic

Distinctive design with bold colors and relief shading.
Measures 70" x 49". Scale: 1 inch = 44 miles.

National Geographic

All of North America (Canada, United States, Mexico, & Central America) Measures 30" x 23". Scale: 1 inch = 209 miles
GeoJango

National Parks Map Poster features all 63 National Parks as well as other unique destinations. Measures 24" x 16".

Historic Pictoric

Reproduced from the original historic map - Oregon Trail, Highway of The Pioneers to The Pacific Northwest, 1932. Includes portraits & illustrations of historic figures and events of the settlement of the Pacific Northwest. Measures 36" x 21".
Ives Goddard

Display map showing North America native languages and language families.
Kappa Map Group

Display map of Washington, D.C. and everything within a 50-mile radius.