Happy Camper Club

Happy Camper Club lets you camp half price at over 1,000 quality parks (click here for locations) across the USA, Canada, and Mexico! The secret of the club's success is that it allows campers to save 50% while giving park owners a way to fill their empty spaces each night. Everyone benefits, and while there are some restrictions and exclusions, we've found that the savings far exceed the cost of membership. And there are no strings— no contracts, no "home parks," just hundreds of choices in overnight and destination resorts across the continent. The first time you pay only $12.50 at a park that usually cost $25, you'll start to see what a great concept this is, and no other club even comes close. (Check them out— the usual "club discount" is 10%.)
For more information and to join,
CLICK HERE, or call toll free:

866-67-SMILE
(866-677-6453)

In Canada:
(318) 343-8608

Email:
HappyCamping10@aol.com

Mention RoadTripAmerica
when you sign up, and you'll receive $5 off your membership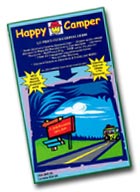 1 Year Membership is only $49.95 + $5.95 Shipping & Handling (less $5 if you mention "RoadTripAmerica"), and membership comes with an unconditional 30-day money-back guarantee.
Save hundreds for less than $1 a week. PLUS, receive a free tote bag with your order.
As a member, you receive a free directory with complete information on over 1,000 participating resorts across the USA & Canada. You also get periodic updates, another unusual and very convenient benefit.