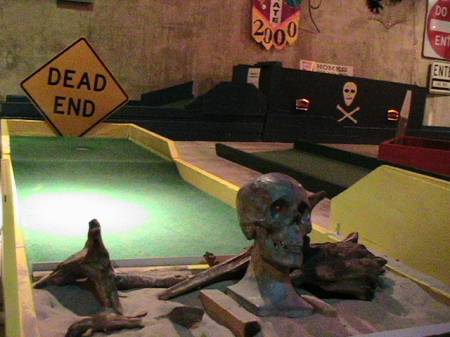 Miniature golf in a funeral parlor? Yes indeed, a short but challenging golf course awaits you in the basement of Ahlgrim Family Funeral Services, owned by the Ahlgrim Family for over a century. (The golf course has been there since the 1960's.) Dubbed Ahlgrim Acres, the 9-hole course capitalizes on its location with humorously macabre visual effects and spooky music. Shuffleboard and other games are also available, and it's all free, as are the refreshments. As the Ahlgrim Acres motto says, 'It's not all grim at Ahlgrim's.'

If you go:
The golf course is closed during funerals or viewings, so call ahead before going.
Links:
201 N. Northwest Hwy.
Palatine, Illinois 60067 USA
Mailing address:
201 N. Northwest Hwy.
Palatine, IL 60067 USA
Phone Numbers:
Office
+1 (847) 3598-7811