In Wisconsin Dells you'll spot something else that you won't find anywhere else, and that is the one definite must-see in town: Wizard Quest. It sounds like a role-playing fantasy game, doesn't it? Well, that's what it is, but it isn't played on a computer or a board game. It's an interactive adventure played in a 13,000 square foot layout on two levels.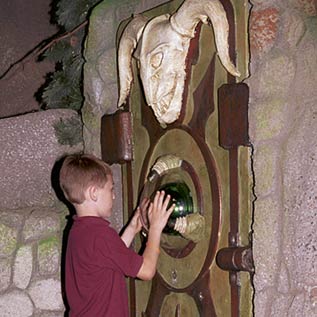 Photo by (c) WizardQuest.net
If you go:
Summer is the best time, because the attraction is open every day and longer hours. Additionally, many other fun activities in town are available during the summer. In the winter, Wizard Quest is closed Tuesday, Wednesday and Thursday. Children 4 and under are admitted free with a paying adult There are combo tickets available that include Ripley's and the Dells 4-D Theater.
Links:
105 Broadway
Wisconsin Dells, Wisconsin 53965 USA
contactus@conceptattractions.com
Phone Numbers:
Information
+1 (608) 254-2184