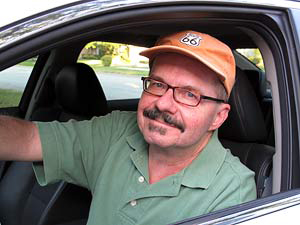 As a Route 66 author, many times I've been asked a simple question that comes in a few variations:
Of the many attractions on Route 66,
What are your favorites? or,
Which are the most offbeat or unusual? or,
Which ones absolutely shouldn't be missed?
Following is a short list, in no particular order:
Totem Pole Park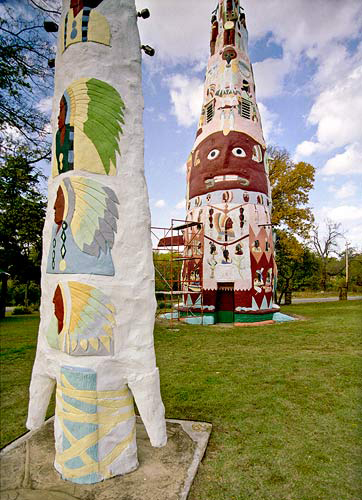 Photo by Drew Knowles
Totem Pole Park
Near the small village of Foyil, Oklahoma, stands a terrific example of folk art at its best. Ed Galloway once lived on this small parcel of land and in his spare time constructed a wide array of native-American-inspired artworks, including a concrete totem pole standing about eight stories tall. Also on the property is a unique eleven-sided building Ed constructed that now houses a small gift shop.
Gemini Giant
Wilmington, Illinois is home to the Launching Pad restaurant, known far and wide for its amazing mascot just outside. The Gemini Giant is an example of what is commonly called a "muffler man," one of those figures that stand over twenty feet in height and which were commonly used to draw attention to muffler and tire shops in the 1960s. This one is special, having been converted into a sort of spaceman by the addition of a helmet and hand-held rocket.
Tucumcari, NM
Teepee Curios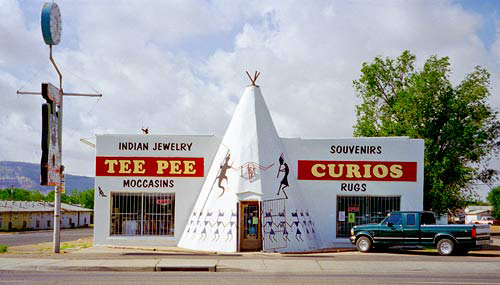 Photo by Drew Knowles
The entire town of Tucumcari, New Mexico, belongs on this must-stop list. Teepee Curios is world-famous for its distinctive shape, but nearby is a restaurant taking the form of a Mexican sombrero. Here, too, is the Blue Swallow Motel, which sports one of the most iconic neon signs ever created. Tucumcari has lots of neon signs and other roadside points of interest—so many, you'll just have to cruise by and see for yourself.
Snow Cap Drive-In
Stop and take a well-deserved break in Seligman, Arizona, where you'll find an outrageous eatery called the Snow Cap. Why outrageous? Juan Delgadillo, who founded and ran the place for many years, was known for his offbeat sense of humor. Featured prominently on the menu is one of the house specialties, "dead chicken," and the knob on the entry door is on the wrong side. If you request napkins, you might very well be asked if you want new or used ones. Aside from the food, be sure to take a stroll around the grounds, which are chock-full of vintage cars, signs, statuary, Christmas decorations, and hundreds of unusual items.
Catoosa Whale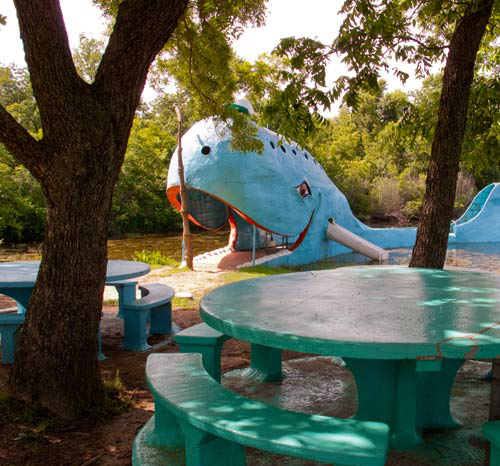 Photo by Drew Knowles
Catoosa Whale
Northeast of Tulsa, Oklahoma, near the small town of Catoosa, is a small family-owned swimming hole in which you'll find a cartoonish blue whale. I can't say it's big, because I suppose it's smaller than most real whales, but it's large enough to include a small diving platform and a slide from which tourists of old could take a dip in the surrounding pond on a warm summer day. These days, the main attraction is the one-of-a-kind whale itself, along with an adjacent picnic area.
Wigwam Village
The sign asks: Have You Slept in a Wigwam Lately? If your answer is no, you have not just one, but two opportunities on Route 66. Both Holbrook, Arizona, and Rialto, California, feature survivors of a small chain of motels that relied on their conical, teepee-shaped rooms to draw travelers off the highway for the night.
Gay Parita Station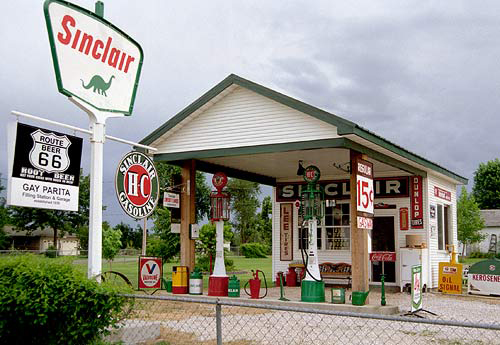 Photo by Drew Knowles
Gay Parita Station
Several miles west of Springfield, Missouri, is the community of Paris Springs, once home to a service station known as the Gay Parita. A few years ago, Gary Turner decided to build a reproduction station on the site, and ever since then he's been an unofficial greeter to all of the Route 66 travelers—from all over the world—who pass through his little neck of the woods. Gary's new Gay Parita is a fine piece of work, but the real treasure here is Gary himself, who loves nothing better than to meet a new friend and chew the fat.
Happy Travels!
---
Drew Knowles has been a traveler since childhood. He took up photography in the pre-digital era and focused his camera—loaded with black-and-white film— on ghost towns, ruins, and mid-twentieth-century Americana.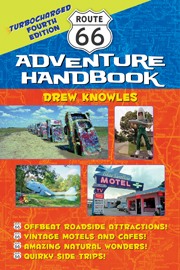 In the early 1990s, a chance encounter with a small section of old U.S. 66 in New Mexico launched Drew on a project to explore and photograph every inch of the old highway over the next several years. That research led to the publication of his first book (now in its fourth edition), the Route 66 Adventure Handbook, in 2001, and also spurred his interest in other American cross-country highways, which he avidly continues to seek out at every opportunity. A collection of Drew's photographs, entitled "Route 66: Avenue of Dreams," has been exhibited in several venues, including the Oklahoma Route 66 Museum in Clinton, Oklahoma. His second book, Route 66 Quick Reference Encyclopedia, was published in 2008.
Drew is a member of the Texas Photographic Society, as well as several Route 66- and roadside-related organizations, including the Society for Commercial Archaeology. He currently makes his home near Fort Worth, Texas, where he busies himself with an array of projects that combine his love for photography, antiquities, and exploring the byways of America.