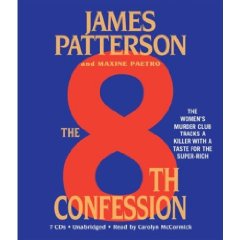 The Women's Murder Club is once again enthusiastically solving crimes and prosecuting criminals in this 8th book in the series. The book opens with a traveling meth lab disguised as a school bus exploding just a few yards away from Lindsay Boxter on a busy San Francisco street. She has no sooner begun to delve into the particulars of this event when she's reassigned to the baffling murders of several of San Francisco's moneyed elite. The circumstances of their murders are particularly unusual because in each case there is no apparent cause of death. In another part of San Francisco, when a homeless man called Bagman Jesus is murdered, investigative reporter Cindy Thomas decides that since the police aren't actively seeking his killer, she'll undertake the job herself. The third member of the Women's Murder Club, prosecutor Yuki Castellano seems poised to win a slam-dunk case against a bludgeoning beauty queen when circumstances change. Ever supportive of each other, the friends pursue of their individual goals as the story lines meld and bring them together professionally as well as personally in this latest Patterson/ Paetro crime thriller.
The Patterson/Paetro team has produced another satisfying drama revolving around the personal and professional lives of four San Francisco women. The police detective, reporter, attorney and doctor who all deal with crime and criminals have named themselves the Women's Murder Club. Effectively narrated by Carolyn McCormick, The 8th Confession is an entertaining audio experience. McCormick's presentation of each of the characters allows the listener to hear distinct voices as the interact to solve crimes and address personal issues.
In this latest installment, Patterson and Paetro have added a little tension to the friendship by having Cindy Thomas become romantically involved with Lindsay's handsome partner, Rich Conklin. Lindsay's jealousy humanizes her, giving her an appealing vulnerability. Each of the subplots is engaging, but for me the most intriguing aspect of the book is the ingenious murder weapon that the authors present. Amateur detectives will find the plot twists keeping them guessing from the first puzzling murder to the final satisfying conclusion.
The 8th Confession (THe Women's Murder Club)
, by James Patterson and Maxine Paetro
Read by Carolyn McCormick
Hachette Audio, unabridged: 7 hours on 7 CDs
Buy from Amazon.com