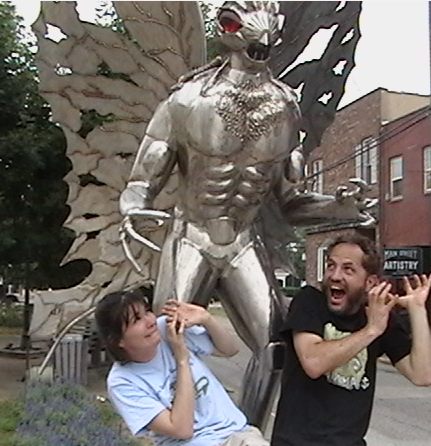 In the 1960's, the community around Point Pleasant was the scene of numerous alleged sightings of a mysterious winged creature with glowing red eyes, which came to be known as The Mothman. One rumor was that it had telepathic powers and warned people about impending tragedies. It was even reported seen on a bridge two weeks before it collapsed, killing 46 people. Newly popularized by the 2002 Richard Gere film 'The Mothman Prophecies', the Mothman is commemorated with a 12-foot statue in the heart of town, a small museum across the street, and an annual festival. A Mothman Bus Tour is also available.

If you go:
The Mothman Festival is held in mid-September. The museum is open every afternoon except for major holidays. While you're in the neighborhood, be sure to check out the informative Point Pleasant battle monument a few blocks away.
Links:
200 4th Street
Point Pleasant, West Virginia 25550 USA
mothmanmuseum@eurekanet.com
Mailing address:
Mothman Museum
411 Main St.
Point Pleasant, WV 25550 USA
Phone Numbers:
Mothman Bus Tour
+1 (304) 812-5211