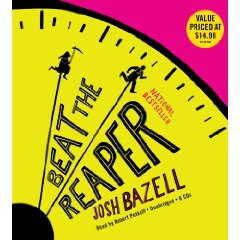 Warning! This book would not make a good gift for someone who is in the hospital or who is about to undergo surgery. However, it's an outrageously wonderful choice for anyone else! Dr. Peter Brown, AKA Pietro "Bearclaw" Brnwa slipped into the role of contract killer unintentionally as a teenager when he sought to avenge his grandparents' murders. When his aptitude for cold-blooded killing was noticed by mob boss, David Locano, the 14 year old became the adopted son and preferred hit man for the mafia don. Pietro used discretion in accepting assignments, only killing criminals who'd proven to be the most vile, but his use of violence knew no restraint. When he falls in love with Magdalena and tries to leave the family business, he finds he has to enter the Federal Witness Protection Program in order to stay alive. When the story opens, he has left the program, has become a doctor in a seedy Manhattan hospital and is about to be ratted out by a patient who recognizes him from his days in the mob. What follows is an intense, hilarious, drug and adrenaline fueled battle to save lives, his own and those of his various patients.
This book is not for the faint of heart. Descriptions of appalling medical conditions, physical suffering, violence, torture and events inducing paralyzing terror are presented in staccato bursts throughout the book, ending only with the final scenes. However, Josh Bazell also offers comic relief in the form of irreverent but insightful observations by Dr. Brown about his patients, his colleagues and his working conditions. Beat the Reaper is full of first hand medical information about illnesses, procedures, drugs, doctor training and hospital policy. While adding realism to the story, this information also removes any Pollyanna confidence in the safety of hospitals or the infallibility of doctors.
Aside from (or maybe because of) the profanity and graphic images, this is an extremely satisfying and entertaining audio book. Robert Petkoff's narration, which includes a wide range of accents, creates a voice for Brown that is at different times authoritative, reflective, introspective, fearful, cocky, and compassionate. Although the action takes place in an 8 hour period within the walls of the hospital, flashbacks take Peter Brown from his youthful murders to Auschwitz to a night spent dodging sharks in an aquarium. For heart-thumping amusement, this book is just what the doctor ordered.
Beat the Reaper
by Josh Bazell
Read by Robert Petkoff
Hachette Audio, unabridged: 7 hours on 6 CDs
Buy from Amazon.com