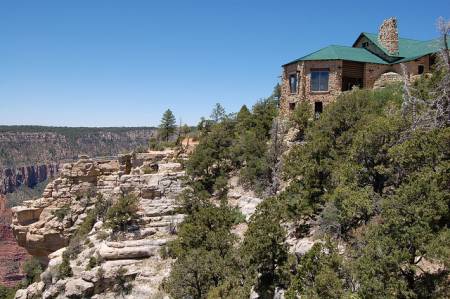 Photo by National Park Service
The rustic cabins in the wooded area surrounding Grand Canyon Lodge provide the only lodging available inside the park on the North Rim of the canyon (and for this reason tend to be booked long ahead). The lodge itself acts as reception for the cabins and is also the location of an excellent restaurant. Huge windows in the Sun Room frame magnificent views of the canyon. Make sure you're on the terrace, drink in hand, in time to watch the sun set; it's a never to be forgotten experience.

If you go:
Reservations are a must, and it's wise to call ahead a day before visiting to make sure the road is open. The road is closed for most of the winter and closes during the infrequent wildfires in the summer months.
Links:
State Highway 67
North Rim, Arizona 86052 USA
Mailing address:
Grand Canyon National Park
P.O. Box 129
Grand Canyon, AZ 86023 USA
Phone Numbers:
Park Information
+1 (928) 638-7888
Lodge Reservations
+1 (877) 386-4383