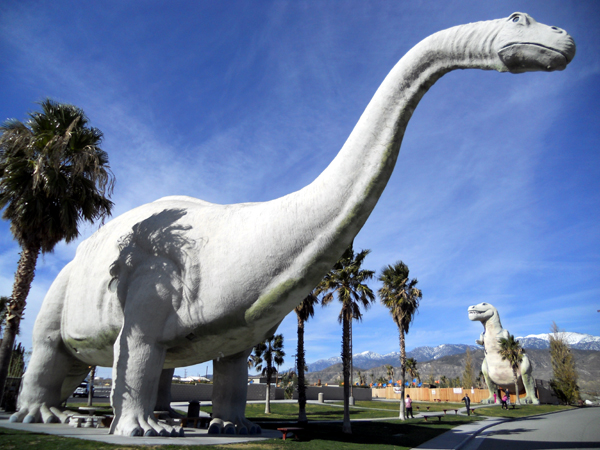 Photo by Jeff Newcamp
A six-story Tyrannosaurus Rex crafted by the late Claude Bell rises out of the desert alongside Interstate 10 in Cabazon, near Palm Springs, California. The T. rex was the second dinosaur designed and built by Mr. Bell. His first creation was a giant green apatosaurus. Measuring in at three times life-size, it's probably the largest dinosaur ever built. The cavernous belly of the great beast, known locally as "Dinny," houses a dinosaur museum and store, "Entrance at tail."

If you go:
When I first visited you could park your car right next to the dinosaurs. Now, they're located in a nice, well-maintained park. Hadley's is just down the street and they still have the best date shakes found anywhere!
Links:
50800 Seminole Drive
Cabazon, California 92230-2304 USA
Phone Numbers:
Gift Store
(951) 922-8700