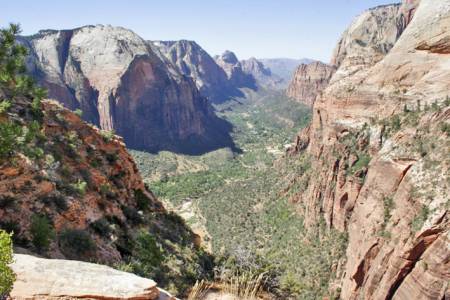 Photo by National Park Service
The spectacular views of Zion Canyon make Angel's Landing one of Zion National Park's top attractions but it takes some effort to get there. A 5-mile, 4-hour round trip, the trail climbs steadily through attractive woodland before hitting Walters Wiggles, a series of 21 sharp switchbacks. Shortly after this you're onto Angels Landing Trail, a narrow sandstone ridge with sheer drops on each side. The end of the trail stands 1500 ft above the valley floor and offers stunning 360-degree views.

If you go:
Sections of chain provide a degree of security on the most exposed sections of the trial but this is definitely not a walk for small children or anyone with the remotest fear of heights!
Links:
Floor of the Valley Road
Trailhead is at The Grotto shuttle exit,
Hurricane, Utah 84737 USA
Mailing address:
Zion National Park
Springdale, UT 84767 USA
Phone Numbers:
Park headquarters
+1 (435) 772-3256
Backcountry information
+1 (435) 772-0170