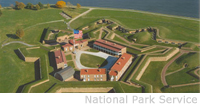 Photo by National Park Service
This is the "Birthplace of the National Anthem." The valiant defense of the star-shaped Fort McHenry during the Battle of Baltimore, September 13-14, 1814, inspired Francis Scott Key to write "The Star-Spangled Banner."

If you go:
New Visitor Center Ribbon cutting is 6:00 pm on the 3rd of March, 2011.
Links:
2400 East Fort Avenue
Baltimore, Maryland 21230-5393 USA
Phone Numbers:
Park Information
+1 (410) 962-4290
Ranger Office
+1 (410) 962-3885