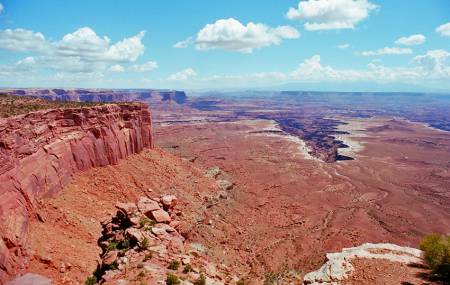 Even if you only have a short time to enjoy Canyonlands National Park, experiencing the awe-inspiring view from Buck Canyon Overlook is a must. Make your way to the safe, wheelchair accessible overlook at the edge of these sheer, 1,000 feet high cliffs and take the time to look out over Buck Canyon; you'll be blown away by the vastness of this staggeringly beautiful National Park. A huge landscape of cracked and fissured sandstone stretches all the way to the horizon. It's one of those places where the scale of what you're looking at is as impressive as its beauty.
Links:
Grandview Point Road,
Moab, Utah 84532 USA
Mailing address:
2282 SW Resource Blvd.
Moab, UT 84532 USA
Phone Numbers:
Visitor Information
+1 (435) 719-2313
Backcountry Information
+1 (435) 259-4351