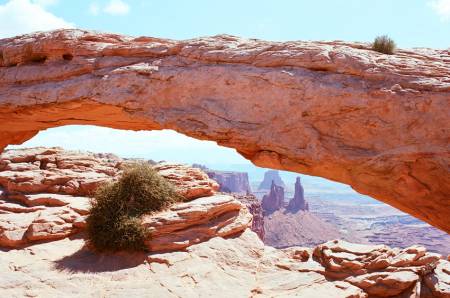 Canyonlands National Park is blessed with many world-class scenic wonders but the jewel in the crown for many is Mesa Arch, a spectacular gateway of rock that stands atop a sheer cliff and frames the views over the canyons below and the Colorado River beyond.

If you go:
Reaching the arch is an easy half mile walk from the Mesa Arch parking area along the Island in the Sky scenic drive. This is probably the most photographed feature in the entire park. Arrive in time for sunrise and experience the unforgettable sight of the sun illuminating the underside of the arch.
Links:
Grand View Point Road
Green River Overlook Road
Moab, Utah 84532 USA
Mailing address:
Canyonlands National Park
2282 SW Resource Blvd.
Moab, UT 84532 USA
Phone Numbers:
Visitor Information
+1 (435) 719-2313
Backcountry Information
+1 (435) 259-4351
Educational Fee Waivers
+1 (435) 719-2141