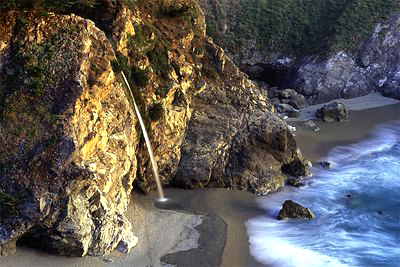 102 miles - 3 hours
The 90 miles or so of coastal highway south of Carmel, California are, arguably, the most iconic of all American drives. Familiar from book and film, Highway 1 clings to the edge of the country, carrying the driver from dune to forest, past Pacific breakers, towering cliff top views and more than one man-made wonder. This is Big Sur, up there with the world's greatest coastal drives.
Here are some of the highlights to look out for along the way:
Carmel
(Starting Point)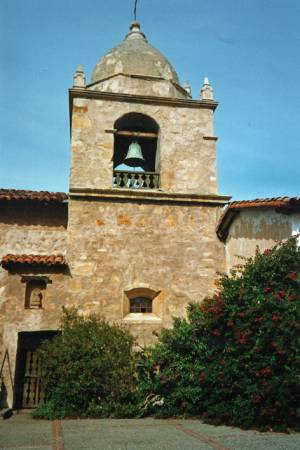 Carmel
is a pretty seaside town, famous for once having had Clint Eastwood as its mayor. If the appeal of its innumerable art galleries and other chic stores begins to wear thin, seek sanctuary in the quiet calmness of
Carmel Mission
, founded in 1770 by Father Junipero Serra and the most important of California's chain of 21 missions. And if you're here overnight, there are few better places to watch the sun set than Carmel beach.
Find Hotels and Motels Near Carmel
Point Lobos State Reserve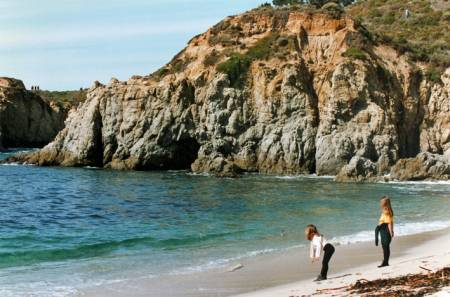 Point Lobos State Reserve
is area of pristine sands, granite bluffs and foaming white surf. Alongside the pleasant and easy walks, the main appeal is the offshore kelp forest that attracts sea lions and - if you're lucky - sea otters. Look out too for the Monterey cypress tree, a species that appears to grow out of the granite rocks and is unique in thriving in this salt-sprayed environment.
Bixby Creek Bridge
At 260 ft tall and 700 ft long,
Bixby Creek Bridge
was, when it in opened in 1932, the largest single-arch span bridge in the world. However, these stark figures do nothing to convey the beauty of this construction. This is a bridge that stands out as being something special, spanning its valley with real grace and style; appropriately enough, it was on Bixby Creek Bridge that Highway 1 was named California's first scenic highway in 1966.
Pfeiffer Big Sur State Park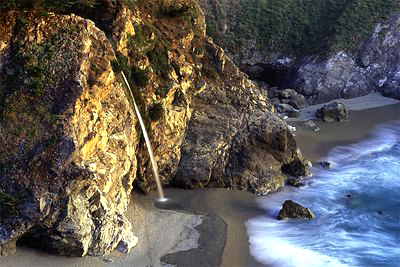 Stretch your legs with a hike among the redwoods.
Pfeiffer Big Sur State Park
offers sensational views of the coast as well as the opportunity to escape the crowds via a number of lengthy trails. For the less energetic, a footpath under Hwy 1 leads to the beautiful
McWay Creek waterfall.
As the prime camping spot along this section of the coast it can get busy so booking is recommended.
San Simeon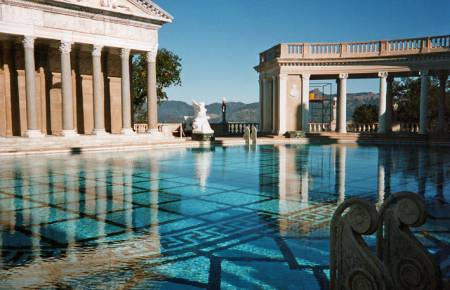 San Simeon itself is a fairly unprepossessing village standing at the foot of a mountain. Just up the hill though is one of the most mind-blowing, some might say bizarre, houses in the world,
Hearst Castle
. Built for newspaper magnate William Randolph Hearst over a 28 period in the early part of the last century, it is a collection of the world's finest architecture and artwork, set in a fantasy castle of mosaic pools and Roman temples.
Find Hotels and Motels Near San Simeon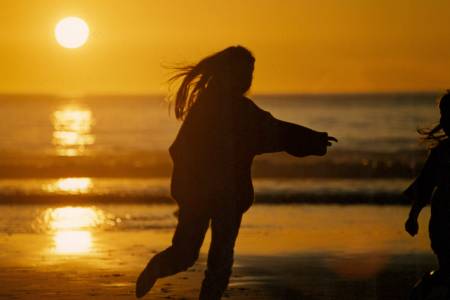 Frolicking along the beach at Carmel