Almost every American at some time has heard the ballad about the legendary railroad engineer and hero Casey Jones. But many may not realize that the song tells an essentially true story. The home where John Luther Jones (nicknamed Casey because he hailed from Cayce, KY) lived with his family in Jackson is now part of the
Casey Jones Home and Railroad Museum,
which pays tribute to the man who on a fateful night in 1900, saved the lives of all the passengers on his train by staying on the throttle and brake until he crashed into a freight train stalled on the track near Vaughan, Mississippi.
The museum proper is a separate building next to the house, with modest but interesting exhibits. There is a great deal of background material about Jones and the accident, including videos, photos and newspaper clippings. There are pieces of railroad equipment such as Jones and his crew might have used, including the 'whippoorwill' whistle that gave his train its distinctive sound. You can even see the horse-drawn hearse that transported Jones' body to its final resting place.
You can also get a good idea how the incident resounded in popular culture through the displays of trinkets that have immortalized him - including keychains, plates, belt buckles, pocket knives and comic books. There's even a book about him in German called Der Lokomotiv Fuhrer. And there is a considerable amount of information about the song that made him famous, including the sheet music and recordings on cylinder and 78 rpm discs.
Then next door is the modest but comfortable home, which you can walk through and note how its faithfully restored decor and furnishings provide insight into the lifestyle of a working class family of the time. The interior presents a very authentic portrait of how it must have looked when he lived in the home.
And of course your visit wouldn't be complete without stepping up onto the antique engine out back that is of a very similar type, though slightly smaller, to the one on which Jones rode into immortality.
IF YOU GO:
The museum is located in Casey Jones Village, a colorful little shopping center with period buildings. It includes a restaurant, gift shop, and authentically old-fashioned soda fountain.
WHEN TO VISIT:
Open every day 9:00 to 5:00. Open until 8:00 during June, July and August.
JURISDICTION: Casey Jones Village
INFORMATION VERIFIED: Dennis Goza, last visit March 2011
ADDRESS: 30 Casey Jones Lane, Jackson, TN 38305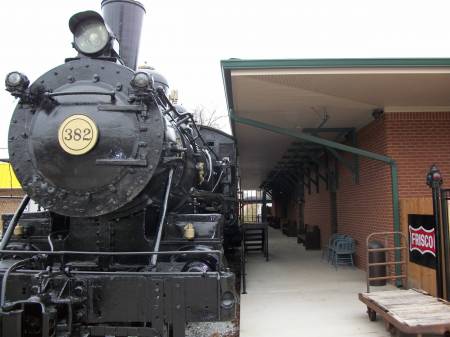 Casey Jones Home and Museum
Photo courtesy of Kimberly Goza