Sparta, Wisconsin bills itself as 'The Bicycle Capital of the Nation.' It also happens to be the hometown of pioneering astronaut Donald 'Deke' Slayton. Both sources of local pride are honored in one compact location, the
Deke Slayton Memorial Space and Bike Museum
. It's an odd, informative and fun little place to spend an hour or two.
The 4000 or so artifacts packed into the facility include Deke Slayton's astronaut suit from Mercury 7, a lunar sample collected on the Apollo 17 mission, and a genuine Pietenpol AirCamper airplane. There are also items chronicling the aviation heritage of Monroe County.
And the museum provides a logical segue between biking and flying ('from sprockets to rockets') by devoting coverage to the Wright Brothers, who were involved in both fields.
Speaking of bikes, there are about 80 noteworthy specimens of bicycle on display, some antique, some rare (some deservedly so), and some downright strange. One, for instance, has lawn mower blades in place of a front wheel, so the rider could get practical work done while enjoying leisurely exercise. Another has a skating blade in front for biking on the ice.
Be sure to watch the vintage (1960's) bike safety film 'One Got Fat', which the museum screens regularly. As even the staff will tell you, it's a priceless and unintentionally amusing gem of training film schlock, with a rather macabre approach to warning kids to ride their bikes responsibly.
And you might want to stop in the gift shop and pick up some bicycle-shaped pasta. Where else can you get that?
IF YOU GO:
Look for special events at the facility, including Tea Time at the Museum and Take a Poem to Lunch.
WHEN TO VISIT
: Open all year, every day but Sunday.
JURISDICTION: The Deke Slayton Memorial Space and Bike Museum, Inc.
INFORMATION VERIFIED: Dennis Goza, March 2011. Last visit May 2007.
ADDRESS: 200 West Main Street, Sparta, WI 54656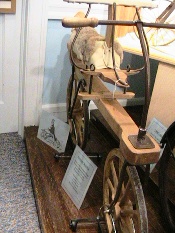 One of the museum's odd specimens
Photo courtesy of Kimberly Goza