Classical architecture doesn't get any more classical than
Nashville's Parthenon
, which is a copy of the ancient temple of that name in Athens. Located in Centennial Park, near Vanderbilt University and downtown Nashville, the imitation Parthenon was originally constructed from plaster for the 1897 Tennessee Centennial Exposition, and was a temporary structure that was dismantled after the event. But it was rebuilt as a permanent structure in 1931, on its original foundation.
Because it's an exact full-scale replica of its namesake in Greece, it incorporates many subtle features that entice the eye even if the visitor is not consciously aware of them.
For example, the exterior columns slant slightly inward, and are of slightly varying diameters. Furthermore, there are no true horizontal lines – all horizontal lines arch upward very slightly. The bronze doors that face east (in Greece, this was to take advantage of morning sunlight) are now the largest set of matching bronze doors in the world.
Since the Parthenon's 1931 incarnation, it has served as Nashville's premier art gallery. In addition to an exhibition of paintings, the facility showcases another touch of classical authenticity: a reproduction of the statue of Athena, goddess of wisdom, that originally stood in the Athenian Parthenon, but is now lost. This replica, standing about 42 feet high, was erected in 1982, and is painstakingly based on ancient documents and scale models. Like the original (and indeed like all statues of antiquity) it's painted, so Athena's robes are a glorious gold, and not the bare stone we now associate with classical sculpture. This is ancient sculpture the way the ancients themselves experienced it.
IF YOU GO:
Allow at least 45 minutes per visit. Photography is permitted in some parts of the building, but not in the art exhibit area.
WHEN TO VISIT:
Closed Mondays, Thanksgiving, Christmas and New Year's Day. Watch for special events, including theatrical performances.
JURISDICTION: Metropolitan Government of Nashville and Davidson County, Tennessee
INFORMATION VERIFIED: Dennis Goza, last visit Feb. 2011
ADDRESS: 2600 West End Avenue, Nashville, TN 37203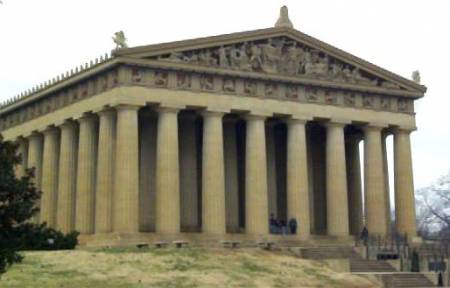 Nashville's Parthenon
Photo courtesy of Dennis Goza