There are plenty of historic houses and buildings that have been restored, sometimes painstakingly, to their original appearance. But
The Hermitage
is quite distinctive in that nearly all the furnishings are the originals rather than reproductions. The items you see on display here are the actual belongings used by Andrew Jackson during his residency. Even the wallpaper (some of which was imported from France) is still intact after some 175 years.
You begin your tour in the visitors center by watching a film about Jackson's life and career, then you have the opportunity to view some of his personal effects, including two swords.
Here you can also pick up an audio tour device to keep you informed of points of interest during your stroll about the grounds.
Then it's a short walk to the mansion itself, where costumed guides will greet you and escort you to view each of the 14 rooms in the two-story dwelling, all laid out just as they would have looked when the Jackson family lived here. The family's musical instruments, the children's dolls and toys and even President Jackson's medicine bottles are still here. Originally constructed in 1821, the house was remodeled twice, the last time just before he moved back in 1837 to live the remainder of his life after retiring from the presidency.
Next to the house are an authentically maintained garden, and the tombs of both Jackson and his wife Rachel. You will also see the rough log cabins that housed the 150 or so slaves who did the actual work on this farm. It's a sobering fact that even a celebrated leader like Jackson participated, in human trafficking. It's only in recent years that archaeologists have been able to piece together the stories of some of the African-Americans who kept The Hermitage humming, and who at the time were not considered important enough to document except in bills of sale. The stories of their lives shed interesting light on the history of the estate, and their own heritage is now celebrated here during Black History Month.
IF YOU GO:
A ride around the estate in a horse-drawn carriage is available for an additional fee, and is a pleasant way to get a good overview of the 1100-acre property.
WHEN TO VISIT:
Open all year, but the vegetation is most beautiful in spring and summer. Special events include Black History Month in February and Jackson's birthday celebration in March.
JURISDICTION: The Hermitage, The Home Of President Andrew Jackson
INFORMATION VERIFIED: Dennis Goza, last visit Feb. 2011
ADDRESS: 4580 Rachel's Lane, Nashville, TN 37076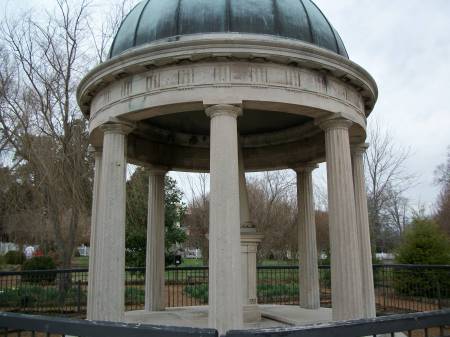 Jackson's Tomb at The Hermitage
Photo courtesy of Kimberly Goza