Historic
Banning Mills
has just about everything going for it that you could possibly want for a romantic or adventurous weekend (or longer) getaway. It sits among 1200 hilly wooded acres, along the beautiful Snake Creek in western Georgia, with its rustic lodge and cabins providing excellent views of the terrain, amid the picturesque ruins of the old paper mill that once stood at this location. The activities include horseback riding, kayaking, swimming, hiking, GPS trek courses, a shooting range, miniature golf, fishing, and sand volleyball.
The top draw is definitely the zip-line course. Banning Mills seems determined to be the finest zip-lining location in the country, if not the whole world. And they're constantly adding new challenging lines to the course that definitely put them in the running for that honor.
There are many packages to choose from, ranging in duration from 90 minutes to about 5 hours. If at all possible, go for the longest one, the Extreme Tour, which takes you on about 6 miles of zip-lines and several sky bridges, including the longest sky bridge in the world at 600 feet. If you don't know what a sky bridge is, it's almost like walking a tightrope, except that the cable is covered with wooden planks to give you a bit more solid footing, though it still feels thrillingly precarious (but is in fact entirely safe.) Altogether, it makes up what Banning Mills claims is the longest eco-canopy tour in the world.
You spend most of the tour either walking on these bridges between treetops, or zipping through the trees on cables at speeds of up to 60 miles per hour. The finale of the Extreme Tour (at least as of this writing) is The Screaming Eagle, which entails jumping from a 100-foot tower and zipping for nearly half a mile over the trees and the creek. But by the time you go, there will probably be some spectacular new addition to the course that outdoes them all.
IF YOU GO:
If you're traveling by RV, there is also a campground on the property. And you can bring along your pet, though pets are prohibited in the cabins. Zip-line tour guides are allowed to accept tips, and they do deserve them.
WHEN TO VISIT:
Open all your, though of course there will be more activities available, and more colorful foliage, in warmer weather. It's less crowded in the winter, but there is also the chance that zip-line tours will be postponed because of inclement weather.
JURISDICTION: The Lodges at Banning Mills Retreat and Conservation Center
INFORMATION VERIFIED: Dennis Goza, Last visit Feb. 2011
ADDRESS: 205 Horseshoe Dam Road, Whitesburg, GA 30185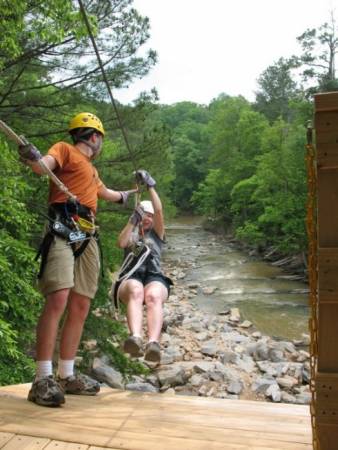 Photo courtesy of Historic Banning Mills