218 miles - 5 hours
This memorable drive begins by heading south through dramatic desert country, then enters Big Bend National Park, with its spectacular mountains, massive canyons and the Rio Grande itself. From here the Texas River Road passes by Terlingua Ghost Town - try to break your journey here - then traces the Rio Grande's route through extraordinarily scenic border country. The final leg of this route heads north to Marfa, renowned for its gastro culture.
Here are some of the highlights to look out for along the way:
Marathon
(Starting point)
If you're in a hurry to get to Marfa, it's less than 60 miles west on US Hwy 90. This long-way-round drive is almost 4 times longer but rewards the effort with a stunning journey through a remote region of deserts, canyons and mountains. Leave the arty town of
Marathon
on two-lane US-Hwy 385 and for the next 40 miles you'll travel through flat, sun-bleached scrubland.
Find Hotels and Motels Near Marathon
Big Bend National Park
(mile 40)
Even if you're just passing through and don't have time to explore the Chisos Mountains, ride the Rio Grande or wander along one of the Chihuahuan Desert nature trails,
Big Bend National Park
still offers countless overlooks and other stopping off points, enabling you to enjoy a range of landscapes as varied as any park in the land.
Santa Elena Canyon
Optional detour (43 miles) – allow 2-3 hours
If you're able to make one detour, this should be it: The majestic
Santa Elena Canyon
. To experience this massive natural feature close up, follow the 0.8-mile trail along the north side of the canyon. Get here via the 30-mile
Ross Maxwell Scenic Drive
. If you have a 4-WD vehicle, you can exit near the park's western entrance via the primitive
Old Maverick Road
; otherwise you'll need to retrace your route.
Terlingua / Study Butte
(mile 93)
The old mining communities of Terlingua/Study Butte are now home to a scattered collection of local services including a gas station and post office. There are also a number of outdoor companies offering trips on the Rio Grande River ranging from easy, half day 'floats' to more serious canoe-and-camp adventures lasting 3 days or more.
Terlingua Ghost Town
(mile 98)
While much of Terlingua is a photogenic ghost town - scattered mining buildings, slowly collapsing adobe houses, and the most photogenic graveyard you'll ever visit - it's also a thriving community of artists, musicians and 'interesting personalities'. Enjoy a meal and a few drinks at the characterful Starlight Theater (it even has its own
Facebook page
) and join in the local tradition of watching the sun set from the front porch.
FM-170 – The Texas River Road
The 60-mile drive from Terlingua to Presidio follows the twisting and turning Texas River Road, said by many to be the most scenic in Texas. As well as unforgettable views of the river, you also get to enjoy the beauty of the countryside itself as the road passes through
Big Bend Ranch State Park.
Contrabando Film Set
(mile 114)
About 9 miles west of the resort town of Lajitas, keep an eye out to your left for Contrabando, an abandoned film set. While the Westerns shot there were entirely forgettable, the 'old' buildings that still stand here make for great photographs.
Fort Leaton State Historic Site
(mile 150)
Located 4 miles east of Presidio,
Fort Leaton
is one of the largest adobe structures in Texas. Constructed in the mid-1800s as a trading post, it was abandoned in the late 1920s and fell into disrepair. The reconstructed buildings and excellent interpretative panels provide a picture of life here in the late 19th/early 20th century.
Marfa
(mile 218)
The final leg of this drive follows US-Hwy 67 north to
Marfa,
a town that prides itself on its arts scene and fine dining. If you're staying the night, book into the beautifully
restored Hotel Paisano
past guests include James Dean, Elizabeth Taylor, Rock Hudson and other cast members of the academy award-winning film Giant.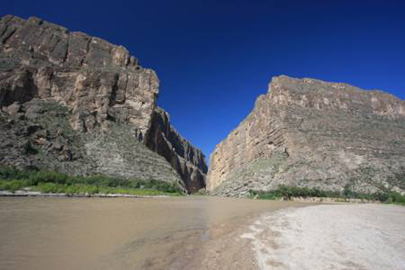 The dramatic Santa Elena Canyon rises above
the Rio Grande in Big Bend National Park.