The charming little town of Wisconsin Dells offers many of the same attractions that you'll find in many resort towns: miniature golf, amusement park rides, water slides and even a 'Ripley's Believe It Or Not.' But next door to Ripley's (and affiliated with it), you'll spot something else that you won't find anywhere else, and that is the one definite must-see in town:
Wizard Quest.
It sounds like a role-playing fantasy game, doesn't it? Well, that's what it is, but it isn't played on a computer or a board game. It's an interactive adventure played in a 13,000 square foot layout on two levels.
The way it works is, you and your team have 90 minutes to complete a mission, which is to find and release the wizards imprisoned in four connected, elaborate fantasy realms representing the medieval 'elements' of fire, earth, air and water. You accomplish the task by accumulating 'glimmers' (points) by solving puzzles. The answers are hidden in the mythical landscape, sometimes obvious and sometimes very carefully concealed. Even if you don't succeed in your mission, you'll have a lot of fun exploring the many passageways (some hidden) including slides, and taking in the amazing detail of this unique little celebration of imagination and playfulness. And oh yes, those points you accumulate aren't just for fun. You can use them to get discounts on some really cool merchandise in the gift shop.
IF YOU GO:
This attraction is literally fun for all ages. Some very young ones might be frightened by the realism of the animated fantasy figures, special effects and atmospheric lighting, but there is nothing intentionally frightening about it. Children 4 and under are admitted free with a paying adult There are combo tickets available that include Ripley's and the Dells 4-D Theater.
WHEN TO VISIT:
Summer is the best time, because the attraction is open every day and longer hours. Additionally, many other fun activities in town are available during the summer. In the winter, Wizard Quest is closed Tuesday, Wednesday and Thursday.
JURISDICTION: Concept Attractions
INFORMATION CURRENT: Dec. 2010. Last visit May 2009.
ADDRESS: 105 Broadway, Wisconsin Dells, WI 53965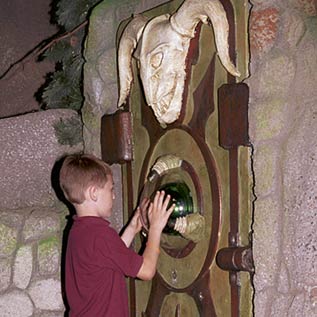 An adventurer opens a secret door at Wizard Quest
Photo courtesy of WizardQuest.net