204 miles - 3-4 hours
Follow this 200 mile drive west on US Highway 90 and you travel through a landscape of desert, canyons, rivers and mountains, made all the more magnificent by the brilliant blue Texan sky. This is road-tripping at its best, delivering a real sense of having the whole world to yourself as the melting, empty highway disappears into the distance.
Here are some highlights along the route.
Del Rio, Texas
(Starting point)
Much of Del Rio's appeal as a tourist destination lies in its proximity to
Ciudad Acuna
, across the International Bridge in Mexico. While the reputations of many of Mexico's border towns have suffered from drug-related violence in recent years, Ciudad Acuna is reckoned to be among the safest and friendliest.
Amistad National Recreation Area
(mile 12)
Head north out of Del Rio on US Hwy 90 and almost immediately you're passing by/across
Lake Amistad
, a huge reservoir, its shoreline is 850-miles long, that straddles the US-Mexican border. Popular activities in this extremely picturesque NRA include camping, boating and fishing, but you can just stop and enjoy the views.

Seminole Canyon
(mile 43)
In order to preserve the ancient pictographs here at
Seminole Canyon
, the main attraction - the Fate Bell Shelter - is only open to guided tours. These are held Wednesday to Saturday, 10 am and 3 pm (no afternoon tours in June, July or August). Other areas of this beautiful state park can be explored via hiking, biking and riding trails.
Pecos River High Bridge
(mile 45)
Visit the overlook and look to the left and you can see the confluence of the Pecos and Rio Grande, with the Mexican state of Coahuila in the distance. Standing 273 feet above the river, this magnificent structure is the highest highway bridge in Texas.
Langtry
(mile 61)
Judge Roy Bean, the 'law west of the Pecos' at the end of the 19th century, has been immortalized in books and on the big screen. He proclaimed his house 'Opera House, Town Hall and Seat of Justice' and named his saloon 'The Jersey Lilly' in honor of the English actress Lillie Langtry. Today these historic properties form part of the fascinating
Judge Roy Bean Visitor Center
here in the dusty, remote-feeling town of Langtry.
US Highway 90
The 100+ miles between Langtry and Marathon pass through real desert country, the sense of remoteness being broken only occasionally by the sight of a wind mill or ranch building.
Dryden
(mile 99)
There's not much here other than a mercantile store but it's reassuring to know there is somewhere along the way to stop and pick up provisions.
Marathon
(mile 170)
Marathon
, named by a local rancher for the area's resemblance to Marathon, Greece, is a gateway town, standing just an hour's drive from the northern entrance to Big Bend N.P. Like many places in this part of Texas these days, it boasts a vibrant arts scene, with a number of galleries in town.
Alpine
(mile 204)
Named one of the 'Top 10 Small Towns in Texas',
Alpine
is a bustling little place and, with a good choice of hotels and restaurants, is an ideal base from which to explore this part of west Texas. Its No.1 attraction is the
Museum of the Big Bend,
with exhibits covering everything from dinosaurs and arrowheads to mining and the Mexican revolution.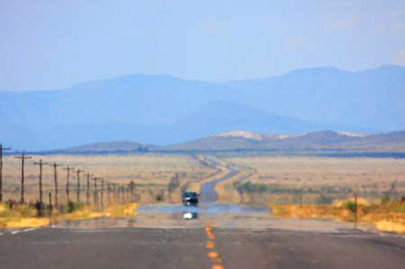 A lone vehicle in the Lone Star State. US Highway 90 shimmers in the heat haze of a Texan midday sun.