Niagara Falls has been attracting tourists for decades. It is a is a favorite destination for honeymooners and families because there are many attractions at the falls that are inexpensive or free. In addition to the regular footpaths and vantage points that offer you magnificent views for free, there are ways to explore the falls from a different perspective, though they will cost money.
One is the most famous is the
Maid of the Mist,
the boat tour that takes you very close to the bottom of the falls – so close that you'll need rain gear (which the tour supplies) to keep from getting soaked by the spray. Likewise there are two tours that lead down close to the bottom of the falls: the Cave of the Winds tour in New York (they provide not only rain gear but sandals with carpeting on the bottom so you don't slip on the rocks) and in Ontario there's the
Journey Behind the Falls
, where you can actually peek through a window directly behind the water as it roars down.
For the best photos, try one of the bird's eye view attractions. In Ontario there's the distinctive
Skylon Tower
, which offers you a lookout height of about 600 feet. That's measured from the ground, but it also sits right above the Maid of the Mist pool, which is about 175 feet below ground level. If you want to feel like a daredevil, Canada also has the
Whirlpool Aero Car
, an aerial tram suspended from cables that carries you out right over the water. (It's perfectly safe, of course.) And there are plenty of other activities in the international twin cities called Niagara Falls in Ontario including three casinos, a carnival, and haunted attractions.
IF YOU GO:
If you have only one day to spend, you should try to spend most of it on the Canadian side. You'll need a passport or other proof of citizenship. If you bring children, you'll need their birth certificates.
WHEN TO VISIT
: Open every day, 24 hours a day, 365 days a year. Activities and attractions within the park, however, are open on a more limited basis. There is a beauty about the falls at any time of year, though it's particularly enchanting in winter. (You may not be able to get as close, as some viewing areas are closed when the paths get icy.) When the weather is particularly cold, the spray freezes in interesting shapes on trees and sometimes there is even ice across the falls. Try to be around at dusk, because every night the falls are illuminated in colors of the rainbow, a truly dazzling display.
JURISDICTION: New York State Parks (US), Niagara Parks Commission (Canada)
INFORMATION CURRENT: Nov. 2010 (Last visit Sept. 2008)
ADDRESS: (US) Buffalo Ave. and First St., Niagara Falls, NY 14303. (Canada) 5685 Falls Avenue, Niagara Falls, ON, L2E 6W7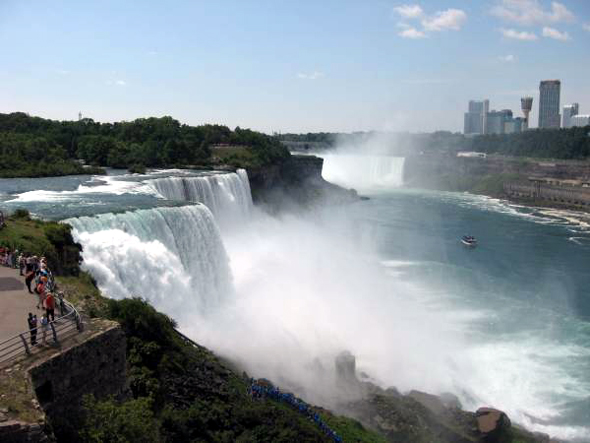 Prospect Point & the 'Maid of The Mist' at the base of the American Falls
Photo courtesy of Jim Collins


test: Map Wizard