113 miles - 5 hours
This picturesque and extraordinarily varied circular – or, more correctly, triangular route – makes its way north from historic Silver City through the dense woodland of Gila National Forest to the 13th dwellings of the Mogollon people. For the return journey, the Trail of the Mountain Spirits takes you through beautiful green rural countryside before turning west back to Silver City past the US's oldest copper mine.
Here are some highlights along the route.
Silver City, New Mexico
(Starting point)
Start your visit with a tour of the charming
Silver City Museum
, once the home of mining magnate Harry Ailman. Then walk down to the vibrant
historic Main Street
where, depending on when you visit, you may find anything from farmers' markets to Christmas parades. Alongside Main Street runs the 'Big Ditch', once the main thoroughfare itself but washed away by floods.
Find Hotels and Motels Near Silver City
Trail of the Mountain Spirits
From Silver City, you'll head north on New Mexico Highway 15 and the entire route is designated the
Trail of the Mountain Spirits National Scenic Byway.
This drive to the Gila Cliff Dwellings winds its way slowly but very prettily through the Gila National Forest. Along the way you'll find numerous stop-off points enabling you to take in magnificent views. It's less than 40 miles from Silver City but expect the drive to take as long as two hours.
Pinos Altos
(mile 7)
Pinos Altos is a hidden treasure, an old mining town that owes its existence to the discovery of gold in 1860. From that year since, the heart of this small community has been the
Buckhorn Saloon and Opera House
. People travel from all over the county for its superb restaurant and there's live music most nights. Also worth a visit is the quirky little museum and curio shop opposite.
Gila Hot Springs
(mile 34)
If you're planning on exploring the Gila Wilderness, then you're unlikely to find a more conveniently-located base than the
Wilderness Lodge and Hot Springs
. And even if you're just passing through, it's good to know there's a gas station and well stocked store here.
Gila Cliff Dwellings National Monument
(mile 38)
The seven caves that make up the
Gila Cliff Dwellings
are reached via a 1-mile loop trail that climbs 180-feet. For the best insight into how the Mogollon people used this caves (interestingly, for only a very brief period, from around 1270 to the early 1300s), follow one of the regular ranger-led tours that start when you reach the top.
Heading back south again, you'll need to retrace your route for about 17 miles then turn left/east on NM State Hwy 35.
Lake Roberts
(mile 59)
Picturesque Lake Roberts
is surrounded by the pines of the Upper Mimbres Valley and is a magnet for boaters, hikers and fishermen. It's also a great place to watch and enjoy the huge number and variety of hummingbirds that live in this part of New Mexico, there's even a Hummingbird Festival every July.
Santa Rita Open Pit Copper Mine
(mile 91)
Turn right/West onto NM Hwy 152 at San Lorenzo and there's a complete change of scenery after the woodland, fields and farms of Mimbres Valley. After a steep climb into the mountains you'll pass the huge Santa Rita Mine, the USA's oldest continually operated copper mine and also one of the largest. There's a viewing area and explanatory panels overlooking the site.
Fort Bayard
(mile 97)
Fort Bayard
was established in 1866 as a military base from which to protect settlers and travelers from the Apache Indians and was home to several companies of Buffalo Soldiers. Over the years it has also served as a hospital, WWII POW camp and national cemetery, and it is open for self-guided tours at all times. At the time of writing a veterans' hospital still operates on site but its future looks uncertain.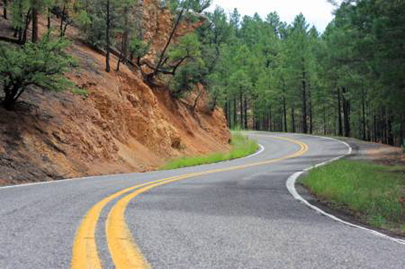 A section of the wonderfully winding Trail of the
Mountain Spirit, heading north through the Gila National Forest.