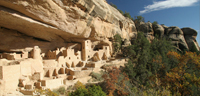 Photo by iStockPhoto.com (c) Duncan Gilbert
Mesa Verde, Spanish for green table, offers a spectacular look into the lives of the Ancestral Pueblo people who made it their home for over 700 years, from A.D. 600 to A.D. 1300. Today, the park protects over 4,000 known archeological sites, including 600 cliff dwellings. These sites are some of the most notable and best preserved in the United States.

If you go:
National Park Service tour tickets (only available at Far View Visitor Center) are required to enter Cliff Palace and Balcony House on Chapin Mesa and Long House on Wetherill Mesa. No ticket is needed to enter Spruce Tree House on Chapin Mesa or Step House on Wetherill Mesa. The Chapin Archeological Museum and Mesa Top Loop Road are must sees.
Links:
Colorado State Hwy 10
Mesa Verde, Colorado 81330 USA
Mailing address:
PO Box 8
Mesa Verde, CO 81330-0008 USA
Phone Numbers:
Visitor Information
+1 (970) 529-4465