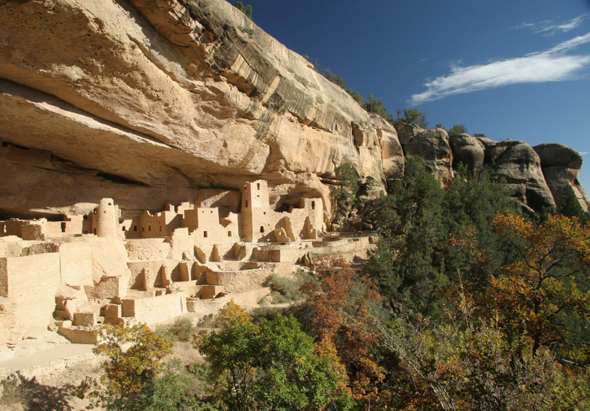 Photo by iStockPhoto.com/ (c)Duncan Gilbert
In the southwestern corner of Colorado concealed among the mountains and forests, lie the ruins of what was a major Native American settlement eight centuries ago. Its inhabitants, the matrilineal culture, also known as the Anasazi (ancestors of modern Hopi and Zuni tribes) disappeared suddenly and mysteriously after occupying the neighborhood for 700 years. But about 600 of these pueblos survive, some in excellent condition, within the boundaries of
Mesa Verde National Park.
You can take a self-guided tour of many of them, but be sure to participate in one or more of the ranger-led explorations, to pick up some really fascinating bits of information. Some pueblos, in fact, are accessible only when rangers lead the way. Among these is a particularly well-preserved dwelling located atop a 50-foot cliff that you can reach only by a primitive wooden ladder. If you're afraid of heights, the ranger will award you a special Indiana Jones certificate for your bravery in making the climb, and it is very much worth the effort. Some ranger-led programs also allow you to step inside the pueblos, from which the thatched roofs have long since disappeared, to get a feel for the tightly-knit lifestyle of this vanished society. The park also contains some fine (and lengthy) hiking trails with excellent wildlife viewing.
IF YOU GO:
If you come from Cortez, the nearest city, allow about half an hour to reach the park. And once you enter the park, allow another half hour to reach the ruins. No pets are allowed on archaeological sites. An inn and a campground are located on park grounds, both open seasonally. Be sure to check out the amazingly panoramic view from Park Point. There is also an informative museum about the Anasazi on-site.
WHEN TO VISIT:
The park is open all year, but many sites, tours and facilities are closed during the winter. For best exploration opportunities, visit between Labor Day and Memorial Day.
ADDRESS: Mailing address is Box 8, Mesa Verde National Park, Colorado 81330
INFORMATION By phone Nov. 2010 (Last visit summer 2007)
JURISDICTION: National Park Service