Williamsburg was once the capital of Virginia, the largest and most influential colony in the budding republic. The restored version of
Colonial Williamsburg
has provided the public with a detailed, vibrant re-creation of this city that was so instrumental in the nation's history and in shaping the American Revolution. Encompassing 301 acres, Colonial Williamsburg provides visitors with the opportunity to travel back in time amid 88 rebuilt homes, taverns, restaurants and shops.
Brought to life even more vividly by actors in period costume who portray soldiers, merchants, craftsmen, ministers, slaves and even actors (a little known fact you pick up is that Williamsburg was the site of the first permanent theater in America). There's even an actor portraying that archetypal traitor, Benedict Arnold, and in the little street drama he and his cohorts enact he explains his reasons for defecting.
Stroll about the town and you'll also see plenty of other street theater, as well as demonstrations of military marching, cannon firing, and fife and drum playing among other things. You'll also see rare breeds of animals authentic to the period, and demonstrations of 20 trades including blacksmith and cobbler. In one segment of the compound, you'll find Great Hopes Plantation, where African-American interpreters depict what life was like for slaves on an18th Century farm. And if you get hungry, these 18th Century taverns still serve food, just as they did in the old days.
IF YOU GO:
Colonial Williamsburg is part of the Historic Triangle, which also includes Yorktown and Jamestown. Each of these sites has its own unique features and historical significance, and you should try to visit all of them while in the area. Other Williamsburg attractions include Busch Gardens theme park.
WHEN TO VISIT:
Open 365 days, but realize that Virginia can get very cold in the winter, and some activities may be scheduled only for warmer days.
JURISDICTION: The Colonial Williamsburg Foundation
INFORMATION By phone Nov. 2010. Last visit Sept. 2009.
ADDRESS: 101A Visitors Center Dr. Williamsburg, VA 23187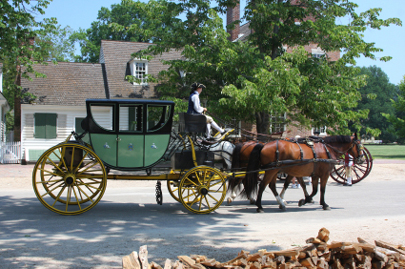 Colonial carriage at Williamsburg, Virginia
Photo courtesy of iStockPhoto.com / © Vanessa Goodrich