It's been a mission, a hospital, a marketplace, and a military installation. But The Alamo is best known as the site of a significant military battle in 1836, when a band of heroic Texans, including Davy Crockett and Jim Bowie, died in a futile attempt to defend the fortress from the Mexican army. The pictures you may have seen of the mission depict the distinctive arched entrance of the chapel. But that feature wasn't added until later. At the time the soldiers made their fabled last stand, the buildings were much more nondescript. That's one of the many surprising bits of information you pick up from the informative and enthusiastic tour guides who help dispel many of the myths and misconceptions about this monumental historic landmark.
The Alamo as it now stands is a memorial to the brave men who died there, and as such, it maintains a serene, respectful atmosphere. There is even a sign requiring that gentlemen remove their hats when entering (ladies presumably are exempt). It doesn't take very long to tour this historic treasure (it's considerably smaller than most people seem to imagine), but once you have, you'll certainly remember the Alamo.
IF YOU GO
: No photography is allowed inside. Admission is free, but donations are encouraged. The Alamo is located in the heart of San Antonio, near many other tourist attractions – some tacky and some worthwhile. It's just a short walk from the Riverwalk, the other attraction that makes this city unique. Actually, the Riverwalk is not a single attraction, but a complex of shopping, dining and entertainment venues along the river amid some attractive non-urban scenery.
WHEN TO VISIT:
The Alamo is open year-round (except Christmas Eve and Christmas Day) , and it's tempting to duck into it to get out of the summer heat, but that's when you'll encounter the biggest crowds. And it can get extremely crowded. It's better to go in late afternoon (it closes at 5:30 most days, and at 7:00 on summer weekends) or during non-summer seasons.
JURISDICITON: Daughters of the Republic of Texas
INFORMATION: By phone Nov. 2010 (Last visit Feb. 2007).
ADDRESS: 300 Alamo Plaza, San Antonio TX 78205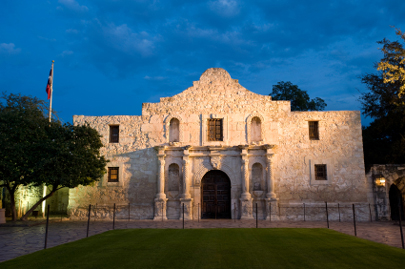 Historic Alamo mission in San Antonio, Texas
Photo courtesy of iStockPhoto.com/© Natalia Bratslavsky