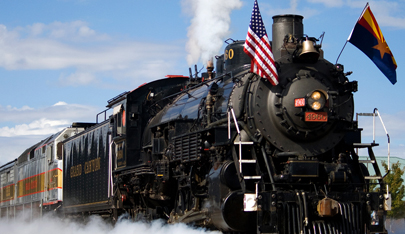 Photo by Grand Canyon Railroad
Most people who visit the Grand Canyon just choose to drive there. But for a unique visit that gives you a leisurely perspective not only of the famous natural landmark itself but of the entire territory for miles around, there's nothing like a ride on the
Grand Canyon Railway.
Departing from Williams, AZ, the Railway offers a two and one half hour trip each way, allowing over three hours to explore the canyon if you return the same day. It's a mesmerizing slow trek on a vintage train, following the tracks of the original railroad that first transported visitors to the Canyon in 1901 (you can also still see the ruts left by the wagons that roamed these parts before trains and automobiles became common modes of transportation.)
Gazing out the window on the tranquil, rugged landscape, you may spot such wildlife as eagles, mule deer and mountain lions. You could easily be lulled into a deep sleep on this ride were it not for the almost constant entertainment provided en route. The cheerful narrator supplies lots of informative and interesting tidbits of information about the region you're passing through, and chances are a cowboy minstrel with guitar will regale you with songs appropriate for the setting.
But that's not all. While you're waiting at the station in Williams, you'll witness a staged gunfight between some wild west hombres. And just when you think you've left them behind, they show up on-board to stage a train robbery. What a delightfully offbeat addition to an offbeat excursion.
IF YOU GO:
The Railway sells round trip tickets only. Be sure to take some time to stroll around the colorful town of Williams, which has a rich history. A fixture on fabled Route 66, Williams was the last holdout to be bypassed by the interstate. The Williams depot and the Grand Canyon depot are both about 100 years old, and the Grand Canyon depot is the last operating log depot in the nation. The Railway also offers vacation packages that include overnight stays at The Grand Canyon Hotel. (Note that both the train and the hotel are entirely non-smoking.)
WHEN TO VISIT:
The train operates every day except Christmas Day. The ride is gorgeous any time of year, but many travelers (including this writer) consider the winter to be especially scenic. During November, December and early January, there is a special Polar Express route that takes children to the 'North Pole' where they can meet Santa.
JURISDICTION: Xanterra Parks and Resorts
INFORMATION: by phone Nov. 2010. Last visit Nov. 2006.
ADDRESS: (Williams Depot) 233 North Grand Canyon Blvd., Williams, AZ 86046